Above all else, Jordan Greenway and Charlie McAvoy are winners.
The Boston University men's hockey sophomores already have decorated careers on the ice, but they're hungry for more. They arrived on Commonwealth Avenue following a stint as teammates on the U.S. National Team Development Program Under-18 squad, where they found great success.
Skating against some of the world's best young talent, they won gold together at the 2015 U18 World Championship. At the World Junior Championship earlier this year in Finland, McAvoy took home a bronze medal. This season, the gifted pair looks to bring hardware of a different kind to Agganis Arena.
It won't be an easy task, though, and they realize that. College hockey is a grueling marathon that tests even the most seasoned competitors. Their freshman year was supposed to be a year of redemption — of attaining the prize that the 2014-15 Terriers could not reach. But it wasn't.
BU head coach David Quinn and his team, despite the arrivals of McAvoy, Greenway and seven others, were unable to get past the University of Denver in the first round of the NCAA Tournament.
They went through an adjustment period as well, getting comfortable with the speed and intensity of college hockey while trying to balance being students.
"Personally I thought playing for the national team, you get a little bit of college experience, so you think that you have it all figured out," McAvoy said. "Once you really get your first taste of actual Hockey East play, of college hockey, it's a big step up from the USHL so I wasn't really as prepared as I thought I was."
McAvoy figured it all out, and was eventually named to the Hockey East All-Rookie Team. Greenway went through a similar adjustment, but noted that due to his time at Shattuck-St. Mary's School, a boarding school in Faribault, Minnesota, it wasn't the college atmosphere that took time to figure out; rather, it was on the ice where he had some difficulty.
After growing up in Potsdam, New York, Greenway moved to Minnesota in eighth grade and has been away from home for six years now. His senior year with the SSM Sabres, one of the premier hockey programs in the world, was one to remember. In that season, he put up 62 points in 46 games before transitioning to the U.S. NTDP the following year.
The transition to BU for the prolific scorer wasn't exactly seamless, and Greenway acknowledged that. It took him until Nov. 28 to net his first collegiate goal, but after that, it was smooth sailing. The 6-foot-5 winger went on a seven-game point streak following that game, and he finished the year with five goals and 21 assists, leading the freshman class.
Greenway credited his teammates and the Terriers' coaching staff for his maturation, and said that despite the hype surrounding his and McAvoy's arrival, he just played hockey.
"I don't think there was a ton of pressure," Greenway said. "[Coach Quinn] and the guys emphasized that I should just play my game, do what you usually do, get a feel for it in the exhibition games or whatever the case is. Eventually they expected me to play a big role on the team, so like I said, there was no pressure for me."
As big a role as the two played a year ago, their roles will be heightened this season. With nine incoming freshmen on its roster once again, three of which were first round picks in this year's NHL Draft, McAvoy and Greenway will be expected to help them along.
Freshman forward Kieffer Bellows, who was the fourth and final Terrier to go in the first round of the draft this year, had nothing but good things to say about McAvoy and Greenway as teammates and friends. Bellows discussed how valuable their leadership is, not just in their playing style, but also how they carry themselves off the ice.
Fellow freshman forward Clayton Keller, the seventh overall pick in the 2016 NHL draft, echoed Bellows' sentiments. The Swansea, Illinois product, who set a new U.S. NTDP record with 189 career points, has played with both Greenway and McAvoy before, and thinks that they're handling this leadership role with great poise.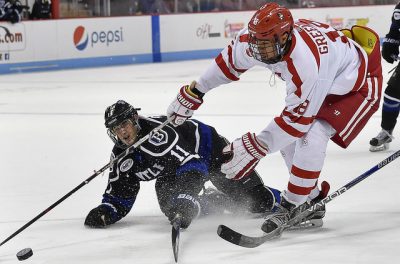 "They're becoming more mature," Quinn said. "You grow up and you realize it's getting to the next step and one day going to have to stand on your own two feet. Come pro hockey, you don't get the support you get in college hockey. They want to win, too, and know in order for us to win we're going to need these nine freshmen to have an impact."
Quinn said he has been impressed by the leadership the sophomore pairing has shown thus far, especially in guiding the freshmen. With players like these two, whose dreams are to one day play professional hockey, it's no surprise that their competitive drive has helped mold them into strong leaders.
Greenway and McAvoy got one step closer to achieving those dreams when their names were called in the NHL Draft. Greenway went 50th overall to the Minnesota Wild in 2015, while McAvoy was taken with 14th overall by the Boston Bruins at the 2016 NHL Draft. But before this talented duo makes the next step, they both acknowledged that there is plenty of business to take care of at BU first.
"Even though we both want to play in the NHL, we have things we want to do here first," Greenway said. "We have a lot of goals that we've set individually and for the team. We want to win a national championship, we want trophies. I want to do a lot of things in college. You only get to experience college once. It's always there, I'm always thinking about it, but I have to do everything I can here first before anything else falls into place."
College can be hard enough for a kid, especially with the added stress of staying healthy, contributing on the ice, getting good grades and trying to impress future coaches. The pairing has done remarkably well at eliminating distractions and just playing their game, but sometimes it is important to look at things from a broader perspective.
Donning the scarlet and white is one of the most prestigious honors that can be bestowed upon a college hockey player. Anyone who has ever listened to the TD Garden roar during a Bruins playoff game or admired Alex Ovechkin's slapshot pictures their name being announced at the NHL Draft. These are things that many can only accomplish in videogames, but McAvoy and Greenway are living it.
"I guess it's sort of a thing where you take a step back and look at where you came from. It's almost hard to believe how fast everything is moving," McAvoy said. "You almost blink and now it's five years later and we're sophomores here and it's kind of crazy. At least for me personally, I don't think I would have changed anything for the world. I really like the spot I'm in right now."
Time stops for no one, and the pairing has entered sophomore year with great expectations and an attitude fitting for success. The talent is there, and in conversations, Quinn talked about how important Greenway and McAvoy are to the program. He spoke of McAvoy's physical, imposing presence on the ice and about a sense of confidence that doesn't breach cockiness. Greenway is working harder, getting better by the day and is nearly impossible to defend, according to the fourth-year head coach.
"If he was a football player, he'd be a five-star tight end at Alabama," Quinn said of Greenway.
There's no denying that McAvoy and Greenway's presence this season will be crucial toward carrying the Terriers toward their ultimate goal — the chance to partake in this year's Frozen Four in Chicago and compete for BU's sixth national championship.
Their winning pedigree speaks for itself. Now it's time for them to go out and do what they do best: play hockey.
"It's very, very exciting for sure," McAvoy said. "The kind of group we have, hopefully we can be playing very late into this year and obviously in a personal way, do whatever I can to help the team win. It's just trying to play the best hockey I can and be the best teammate I can."