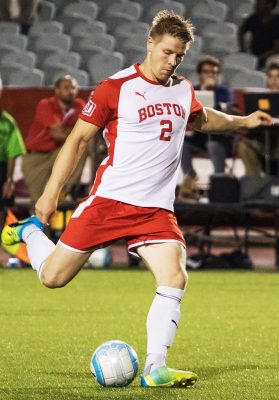 The 2016 season for the Boston University men's soccer team isn't over just yet.
Thanks to a 74th-minute strike from sophomore midfielder Nicki Wieners in its final regular season game against the United States Naval Academy on Friday night, the Terriers (8-6-2, 4-3-2 Patriot League) earned a spot in the Patriot League Tournament.
BU is making its third straight appearance in the conference tournament following its move from the America East in 2013. It will face rival Bucknell University in the opening round on Tuesday night at Nickerson Field, where the Terriers own an impressive 7-2 record this year.
"We didn't know how it was gonna end up, but it's always good to play home," said BU head coach Neil Roberts. "They're in a good spot, I think they're confident in the way they're playing."
The Bison (7-10-2, 4-4-1 Patriot League), the tournament's fifth seed for a second straight season, are making their fifth straight appearance in the postseason.
The Terriers last played Bucknell to a 1-1 double-overtime draw in its Patriot League opener on Sept. 24. In that contest, junior midfielder Anthony Viteri netted the Terriers' lone goal of the night in what was a strong, 10-save performance from senior goalkeeper Matt Gilbert.
This was a similar formula used by BU all season long, and the two upperclassmen were recently honored for their efforts. Viteri and Gilbert, along with senior defender David Asbjornsson and senior forward Felix De Bona, were named to the Patriot League All-Conference team on Monday.
If the Terriers advance to the semifinals, which would take place Friday, expect this talented quartet to have played a key role against the Bison.
"They've obviously done well for us," Roberts said. "It's been two years now that they've all been very consistent in the way they've played. They've been steady. I think the most impressive thing about these guys is that when we went into a real bad patch for about three weeks, they stayed composed and that kept everybody else composed."
With an offense that has put up the fourth-most goals per game in the league, and a defense that has stifled opponents to the tune of a 1.13 goals-against average, BU is well-suited for a tournament run.
De Bona and Viteri have paced the scoring, grabbing 17 and 16 points, respectively, while newcomers forward Matt McDonnell and midfielder Jerry Ozor have combined for three goals and seven assists.
For the Bison, who average 1.47 goals per match, senior Sebastiaan Blickman leads the way. The Lincoln native has netted 10 goals on the year, which is tied for first in the conference.
The Terriers will have their hands full defending the 2014 Patriot League Tournament MVP, but Roberts feels that Asbjornsson and the rest of the defense will be ready.
"[Blickman's] a good finisher, there's no doubt," Roberts said. "From what we've seen of him he doesn't get a lot of opportunities, but when he does, he doesn't need a lot to get a goal, which is unusual for a college striker. I think it's going to come down to us, and we have to figure out a way to break them down."
BU enters this contest after rattling off three straight wins to close out the regular season. The Terriers staved off elimination from postseason contention in each of its last three games, so in the mind of Roberts, the team has been playing postseason soccer for awhile now.
"You hope that it helps," Roberts said. "They realize the intensity that they need, and we've been doing that for three weeks now so that can't hurt us. They know what they need to do. I think that defensively we're doing well; we're limiting the chances, limiting the goals and we're working on the last part of it in trying to get goals."