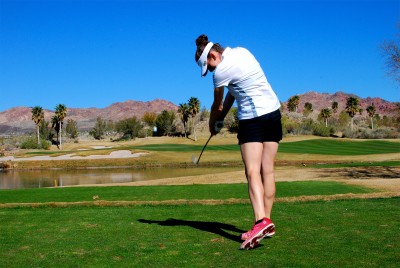 If you had told recent Boston University graduate Emily Tillo four years ago that she would be nominated for one of the most prestigious collegiate awards in the country, she would have thought you were crazy.
Yet, on Sept. 7, that's exactly what happened, as Tillo was named one of the 30 student athletes nominated for the NCAA Woman of the Year Award, which encompasses all conferences across all three divisions.
"I'm just so honored and so blessed," Tillo said. "So thankful not only to God, but to the BU community and my family. I think it's just a testament to how much they believed in me."
Tillo distinguished herself in the classroom and on the course — she graduated in May with a 3.94 GPA and averaged a score of 78.14 in 95 collegiate rounds during a sterling career on the BU golf team.
She's not your typical golf phenom, though, and she'll be the first person to tell you that. Tillo, who grew up, and now works in, Jacksonville, Florida did not pick up a golf club until she was 12 years old.
Growing up, she was always playing sports, whether it was competing in swimming and diving events or playing basketball. In the sixth grade, Tillo did not make the volleyball team and instead turned her focus to golf.
"I was kind of really upset," Emily said, "because I'm pretty tall. I'm 5'9'', and I was pretty tall in middle school, and I consider myself to be a pretty good athlete."
One could say athleticism runs in the Tillo family — Emily's sister Lizzie is currently a sophomore on the BU swimming and diving team — but it was actually her younger brother TJ who started going to a golf clinic with Emily after she missed out on the volleyball team.
Not only has her family helped her succeed athletically, but also academically. Tillo attributed her decision to attend BU to her older sister Carolyn, who was a BU graduate student when she was a high school senior.
"I just loved the vibe of the city and I wanted to get out and adventure," Tillo said. "I knew I wanted to get out of Florida. I was kind of ready for a change, ready to try something different … I definitely took the Florida winters for granted."
She was so drawn to the school that while moving her sister in the August entering her senior year, Tillo reached out to BU golf head coach Bruce Chalas.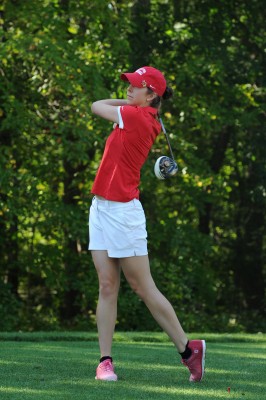 "And then I get this random phone call in October, and [Chalas] asked me more questions, and he was like, 'This is Bruce Chalas, head golf coach of BU, and I'd love to meet with you and connect,'" Tillo said. "What we ended up doing is — he is from North Carolina originally and I'm from Florida — so we met halfway. This is Thanksgiving time, and he just watched me hit balls on the range."
And the rest is history.
She then came to BU, where she had an illustrious career academically, on the course and in the community. Emily made the most of her time on Commonwealth Avenue, graduating summa cum laude from the Questrom School of Business while minoring in journalism within the College of Communication.
Throughout her time in Boston, Tillo served as one of the leading members of the Student-Athlete Advisory Council, which serves as the voice of student athletes on campus. She worked closely with athletes across all Terrier teams, and cited her time on the SAAC as one of her fondest memories at BU.
When reflecting upon her BU career, one thing came to mind — community.
"I'm going to miss the community at BU so much," Tillo said. "Not only the athletic community, but the communities I had at each school, like Questrom and COM and all the classmates. I'm going to miss walking up and down Comm. Ave. to class, I'm going to miss the little things."
She cultivated this community on the golf team, where she helped lead the Terriers to their first-ever Patriot League championship as a junior. This led to a trip to NCAA Regionals in Texas, where she and her teammates got the chance to compete with the best collegiate golfers in the country — something she said she'll remember forever.
This past spring, the Terriers travelled to Boulder City, Nevada to play in the Battle of Boulder Creek where the team made history. Tillo shot a four-under 68, the lowest round in program history, and was one of five BU golfers to shoot under 80 in the second round, the first time in the BU golf's history that this occurred.
This sense of community was also present through her coursework, where Emily was inspired by a number of her professors. She was able to combine two of passions, business and journalism, and pursue a career in the sport she loves post-graduation.
Just five days after she received her degree from BU, Tillo started working full time as a communications associate for the PGA Tour. She is back home doing what she loves while covering the sport that she loves, eager to see where her career takes her within the golf industry.
"They've supported me a lot," Tillo said of co-workers. "They definitely believe in me, and they've encouraged me to keep getting better."
And it's hard not to support her. Tillo has the demeanor and instinct to strive to be the best at her craft — her efforts don't go unnoticed.
In the past year, she received multiple accolades including 2015-16 BU Woman of the Year, the Patriot League Woman of the Year, the Patriot League Sportsmanship Award and, most notably, the NCAA Woman of the Year nomination.
Sometime within the next few months Tillo will discover whether or not she is crowned the NCAA Woman of the Year, but regardless of the outcome, she feels she has already won.
She is surrounded by a support system that extends well beyond her experience in the classroom and the golf course — she is a part of the BU community wherever she goes, and for that, she is incredibly grateful.
"I'm a self-motivated person, but you have create a community of people and community of supporters that take it up a notch, and that motivate you to do even more than you thought you could ever do," she said. "That's what BU gave me — the curiosity to learn, the curiosity to improve myself, and to always keep getting better."