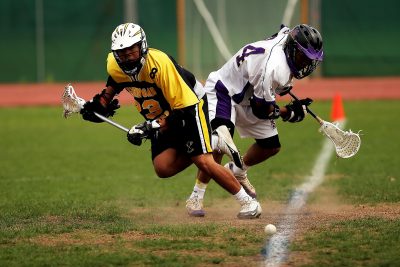 With nine teams competing in the National Lacrosse League for the 2017 season, there are at least 30 markets being considered for expansion, four or five of which are being seriously considered.
Two of those markets are obvious: Philadelphia and Edmonton, two cities that lost their NLL teams in the past three years but have markets strong enough to sustain a club. Philadelphia hosted the Wings for more than 20 years before the team moved to Connecticut, and the Edmonton hosted the Rush until 2015.
The Rush's relocation to Saskatoon was far more of a success than anyone could have expected, with the Saskatchewan Rush setting a new standard for arena sellouts and fan support.
The Swarm's move from Minnesota to Georgia? Not so much.
The Georgia Swarm is one of the most exciting teams in professional lacrosse. It is off to a spectacular start of the season, but attendance numbers do not match the team's performance. The Swarm barely drew in a crowd of 2,000 last weekend against New England, a rematch of last year's quarter round playoff series.
The NLL used to have roots in most major American cities, including Boston, New York, Pittsburgh, Chicago, Southern California and Philadelphia. It currently is not in any of these markets, and the reason is not just due to a lack of fan interest.
In today's NLL, the Boston Blazers, who average a little more than 8,000 fans per game, would be viable; it was the arena they played in, the TD Garden, that is too pricey. The same goes for the New York Titans and Saints, who couldn't afford to lease Madison Square Garden.
Instead, the NLL began to focus on smaller arenas. Rochester has had success, and now Saskatchewan. Thus far, Georgia hasn't followed that mold in their second season.
Meanwhile, teams in Calgary, Buffalo and Colorado can sell out NHL-sized arenas, but the catch is that they're all owned by the NHL teams in those cities.
It seems to be a given that by at least the 2019 season, and possibly 2018, Edmonton and Philadelphia will have their franchises back. Meanwhile, Saskatchewan and New England are cemented in place as the cornerstone franchises for the league moving forward.
But where else? Where else hasn't been attempted, and which previous NLL markets could support a team again?
With the league's more realistic approach of settling for smaller stadiums, Boston remains on top of the league's list, according to the commissioner. A stadium such as BU's own Agganis Arena might be a good fit for the NLL with its new approach.
There has been speculation of a team returning to New York via the now vacant Nassau Coliseum on Long Island, and maybe Major League Lacrosse's New York Lizards could have a stake in that team, which would create all sorts of new lacrosse storylines.
When Minnesota was looking to relocate, Las Vegas was also in the conversation. Now that Sin City hosts an NHL team, could a pro lacrosse tenant in that arena be next?
Does that mean they would consider moving back to those other sites like Baltimore, Washington and New Jersey?
Maybe.
The key is ownership. A team must be willing to build from the ground up in order to gain a profitable fan base. For some places, such as New England, that means owning the arena. For Saskatchewan, that means a rabid fan base ready to embrace a local team. For Buffalo, it means having the assets and the backing of an NHL franchise.
There's no perfect formula, but as long as there is a formula in place, the NLL might be looking to expand near you.