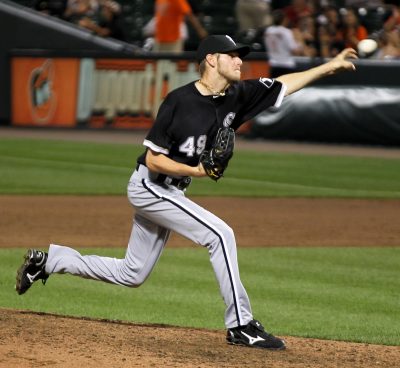 Trader Dave is at it again.
When Dave Dombrowski took the reigns of the Red Sox baseball operations in August 2015, big moves were expected. In the aftermath of the Drew Pomeranz trade at this past July's trade deadline, there was some disappointment that the famed dealmaker didn't pull off a big one.
Fast forward five months later, and the disappointed should feel relieved.
Earlier this week, the Red Sox traded for Chicago White Sox ace lefty Chris Sale to establish what could be called a "super staff" with David Price and 2016 Cy Young Award-winner Rick Porcello.
The major league roster also stays in tact, as the Red Sox were able to retain much of the their young talent in the deal. Andrew Benintendi, Jackie Bradley Jr., Eduardo Rodriguez and Blake Swihart will all be back on Yawkey Way next season.
Despite the fact that the Sox had to part with prized phenom Yoan Moncada in this trade, their future is bright. Moncada and Michael Kopech, another piece going to Chicago, are significant prospects, but Boston's farm system is far from depleted.
Jason Groome, the Red Sox first-round draft pick this year, slots into that top pitching prospect role, while highly touted third baseman Rafael Devers also stays with the Sox.
Sam Travis, the first base prospect who tore his ACL in late May, also stayed rostered by Boston. This should elicit a sigh of relief from Sox fans, as Travis projects to be quite the ballplayer moving forward.
Moncada was signed by a Red Sox brass before Dombrowski, so the former Tigers GM had no trouble trading him. With a glut of corner infielders and Pablo Sandoval returning, Dombrowski ended any possibility of either Moncada or Travis Shaw, also traded this week, competing for that role.
One thing is clear: Sandoval is the Red Sox third baseman now. Even though Shaw beat him out in spring training last year, Panda is our guy. Instagrams aside, fans should hope for the best with the three-time World Series champion, who seems to have lost a great deal of weight in the offseason.
With left-handed Mitch Moreland now in the fold as well, the Red Sox essentially have a complete corner infield.
As has been the case since Dombrowski came to Boston, each of his moves have had a purpose.
Unlike previous moves, such as deals for Sandoval or Hanley Ramirez, there appears to be a logical connection among different deals. For example: Shaw out, Moreland in.
There's an immediate reaction to each need, sending the Red Sox in a clear direction with an identity.
Sale has yet to pitch in the postseason, but it's hard to hold that against a pitcher who has played for the White Sox over his entire career.
Even though the price might be lofty, the Red Sox got away without giving away any major league-ready talent.
Not giving up Rodriguez leaves nearly zero question marks about the starting rotation, and keeping Bradley allows Boston to hold onto one of the better outfield corps in baseball.
Swihart also offers stability at the catching situation if Sandy Leon were to come back down to earth or Christian Vazquez continues to struggle at the plate.
In the bullpen, the addition of Tyler Thornburg softens the blow of losing Koji Uehara, and Carson Smith returning from injury is essentially an addition in its own right. One more addition, such as a Greg Holland, would leave the Red Sox with few holes on the entire roster.
Dombrowski's trade history is excellent, as he has never really given up a prospect that blossomed later on.
His trade of Prince Fielder for Ian Kinsler is arguably one of the best of the past decade. He's been known to give up young talent, but little that has come back to haunt him.
Will Moncada change that trend? I guess for now, In Dave We Trust?