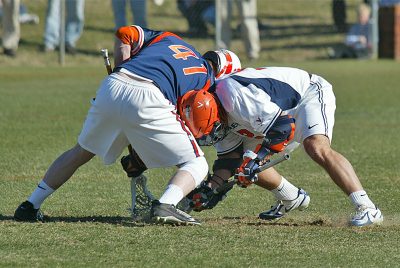 Two Saturdays ago, a college lacrosse game between Loyola University Maryland and the University of Virginia was streamed on Twitter. The game had perks that appealed to any lacrosse fans: Loyola is a top team that got to the final four last season, and Virginia debuted its new head coach, Lars Tiffany. Additionally, former Loyola and University of Maryland head coach, Dave Cottle, was commentating, which provided the game with a terrific broadcast.
For any lacrosse fan, it was a huge game that would have garnered several thousand views on the Patriot League Network. But a regular stream on the PLN was not going to generate 680,000 views. The Twitter stream did, however, and proved its success.
It was the first college lacrosse game streamed on Twitter, and it was the first of several collegiate sports that are scheduled to air on Twitter because of a new deal between the social media outlet along with the Patriot League Network and Campus Insiders. The game was the most-watched ever on the Campus Insiders platform, a network that hosts collegiate games for numerous conferences.
On any given Saturday, most college lacrosse talk on Twitter is filled with fans and media voices alike discussing the games. Since most games are not televised, and games are almost exclusively online, Twitter has become a de facto gathering place for lacrosse fans.
With that in mind, it's no surprise that a game streamed live on that platform would bring out lacrosse fans in masses compared to jumping around from game to game, especially when most games are blocked by a paywall to watch.
So, free streamed lacrosse games on Twitter? That's going to be a hit.
But what about other sports that are more widely accessible?
Other sports in the Campus Insiders deal haven't reached that level of success, at least in comparison to how games do on television. College basketball games are more than readily available online and on television, with sometimes more than 10 games televised per day, so having access to those games on Twitter is not as enticing.
The NFL experimented with Twitter streams during Thursday Night Football and saw moderate success on the brand's weakest night of football. Thursday Night Football consistently did not have the same viewership as the other two primetime spots (Sunday and Monday night), so for that not to carry over, when the games were also on TV, was to be expected.
With so much sports content now available thanks to online streaming, that does not mean everything will have success on every platform. Most of the big four sports (NFL, MLB, NBA, NHL) are only consumed via streaming when fans do not have access to that specific telecast.
For smaller sports, the situation is different.
Both professional lacrosse leagues, professional women's hockey and other niche sports are almost exclusively online and have small, passionate fan bases. That would seem to be the perfect target audience for Twitter streams, where a larger audience can find access to a sport they might not watch, and all the regular fans who would tune in anyways are also there.
With there being only so much available real estate for live sports on networks like ESPN, FOX, NBC and CBS, it makes a lot of sense for smaller leagues, teams and sports to carve their mark into the viewership landscape by creating and monetizing their own content on unlimited platforms, such as in this case, Twitter.
The audiences of the lesser-followed sports aren't going to dwindle, but only grow. The reality is when you are used to watching games online anyway, the move to Twitter is not much of a change.
The first broadcasted college lacrosse game was a success, so expect more teams, leagues and sports to follow suit. This is the first step toward integrating minor sports with the more popular big four leagues.