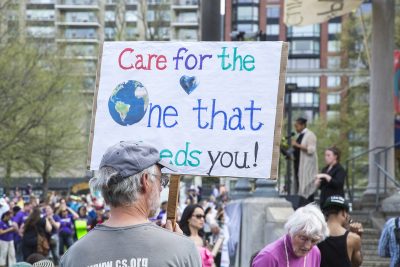 Thousands gathered at the Boston Common Saturday afternoon to rally for climate change action and to protest the Trump administration's stagnation.
The rally was one of 300 across the country, timed to coincide with President Donald Trump's 100th day in office, according to a press release issued by 350 Massachusetts and Corporate Accountability International.  
The Boston People's Climate Movement engaged a local coalition of 72 Massachusetts organizations that focus on climate impact through labor rights, health care, environmental justice, faith, education, immigrant justice and climate activism, according to the release.  
Nikko Mendoza, communications director for the Massachusetts division of 1199SEIU United Healthcare Workers East, said before the rally that the health care labor union joined the coalition to promote understanding of the effects of climate change on well-being.
"Climate change is one of those barriers that gets in the way of folks' healthy living," Mendoza said.
Chronic conditions like asthma are exacerbated by pollution, and the spread of viruses and disease is aided by climate change, Mendoza said.
Climate change is also an environmental justice issue, Mendoza said, because of the way it disproportionately affects low-income communities and communities of color.
"Power plants and pipelines … pollute and disrupt neighborhoods and also threaten health," Mendoza said. "They're typically cited in communities of working families and communities of color."
Avipsa Mahapatra, president of Boston EcoWomen, said before the rally that climate change affects everyone and is therefore the basis of every movement.
"It allows all of us to join our efforts to give a much greater understanding as well as visibility to our common struggle to get changes in policy and to demand bold action," Mahapatra said.
Because climate change is too big of an issue for any one group to successfully tackle, the rally was equally about embracing diversity and uniting with other people, said Rev. Mariama White-Hammond, associate minister for ecological justice at Bethel A.M.E. Church and a leader with the Massachusetts Interfaith Coalition for Climate Action, who served as the rally's emcee.
"We only have one planet, one home that sustains us all," White-Hammond said. "We are uniting to provide for the common defense of our future."
Several people at the rally said climate change action is necessary to protect the planet.
Anna Cohen, 27, of Jamaica Plains, said actions must be taken now to save the planet.
"If we want to have this world, it's beyond time for action," Cohen said. "[We have to] advocate for countries around the world who don't have the same resources as the United States, the ones who are making the emissions."
David Vaillette, 49, of Leominster, said he came because he had always wanted to attend a climate rally and missed the March for Science earlier this month.
"We've got to save the Earth," Vaillette said. "It's where I keep all my stuff."
Joshua Bruckner, 28, of Malden, said climate change action is important because of the various effects it has on low-income groups.
[Climate change] affects everyone, but particularly poor communities, the people who have had the least amount of say in it," Bruckner said.