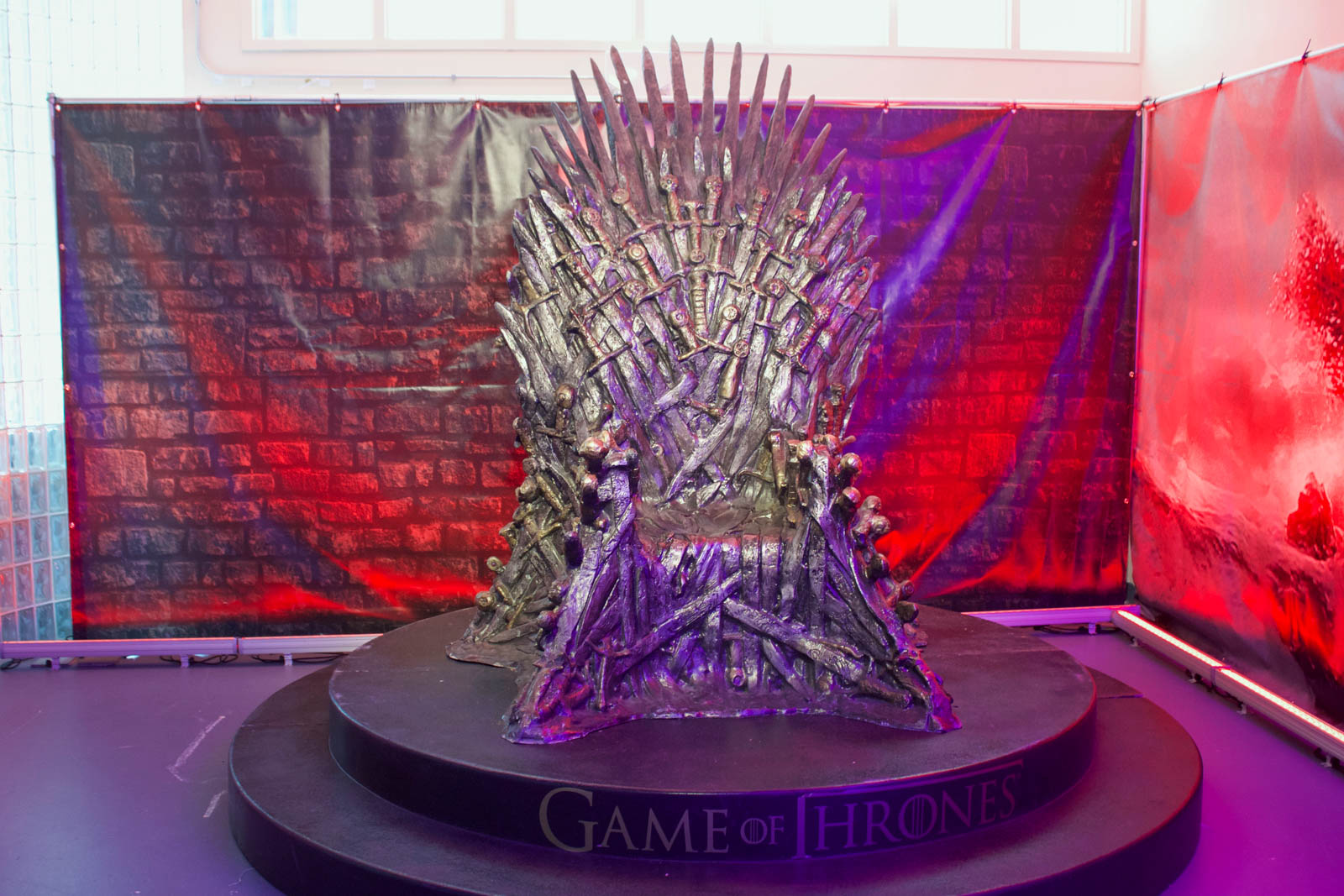 Nine Boston University students have written and produced a six-episode hypothetical final season for the HBO series "Game of Thrones" as part of a special topics film and television class offered this semester by College of Communication professor Kam Miller.
The students' work culminated this weekend in "Game of Thrones: The Virtual Final Season," a staged reading of the final season they created. The production featured voice actors from Boston, New York City and Washington, D.C., and was produced and live-streamed by BUTV10.
Students were invited to gather at 700 Beacon St. for a viewing party, where they would have a chance to take photos with the Iron Throne, sent from HBO.
While the hypothetical final season follows an arc designed by its writers, Madison Goldman, a senior in the College of Communication, said they tried to emulate the writing style and episodic flow of David Benioff and D.B. Weiss, the writers and showrunners of the real series so their season would have the same sort of feeling as the official show.
"The show catches you so much, there's a lot of turns, it flips you upside down," she said. "It surprises you, it makes you cry, it makes you laugh and that's what I want the audience to feel."
Students in Miller's fall episodic drama class were invited to apply for the "Game of Thrones" class at the end of the semester, the writers said. Some of them applied due to their interest in the show, but others said they applied mainly for the unique chance to be part of a writer's room while still in college.
Ruth Johnson, a COM graduate student studying television, said she applied for the chance to experience the collaborative nature of a writer's room at BU.
"We each got to have input over an entire season and we got to structure an entire arc, and for me that was really what I wanted," she said. "It was just a gratifying opportunity to sit in a room with other very talented writers and hash out a season."
Professional television writers often have many months to write a season. The official final season of "Game of Thrones," which will also be six episodes long, is set to air in 2019, but due to the confines of an academic semester and the amount of revision required, the students said they had only a month to write their season.
Although the class was officially scheduled to meet for three hours on Wednesdays, students said they frequently met on the weekends as well to accommodate the collaborative nature of the class.
"People have their own scripts, but we all have to have a cohesive storyline arc over this entire season," said Kasey Collins, a senior in COM.
The transition from writing to production happened just within the past month, the writers said. Production included sending out casting calls for voice actors, working with BUTV10 to coordinate props, audio and the livestream, and working with HBO to host an HBO-sponsored viewing party.
The students have also been responsible for the advertising and public relations sides of the production, creating posters and official social media accounts for the event.
Thomas Nitti, general manager for BUTV10 and an assistant producer for the production, said BUTV10's role was to take the writers' season and "bring it to life" through the livestreaming and the viewing party. He said he was very proud of the event and that he hoped it would give BU students some pride in their peers.
"A lot of people see student events and go, 'Oh, it's a student event.' There's an essence to it that seems subpar," Nitti said. "The hours and the effort that's going into this will prove that wrong."
As the final season of "Game of Thrones" is still unreleased, this project is purely speculative, the writers said. Johnson said there was some concern that viewers would be angered by some of the decisions, but that the end goal was just to entertain viewers.
"I think a lot of people are going to be really hooked because we definitely have some exciting moments, some exciting scenes," she said.
Collins said she wanted the production show to provide a plausible ending for fans of the official show — something that would line up with what Benioff, Weiss and Martin would write.
"I really hope they think we do the characters and the series justice, and really see what our character arcs mean for the overall story," she said, adding that the season was created to share their passion for the show with other fans.