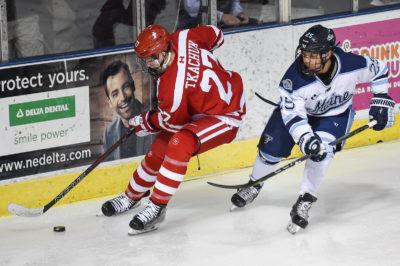 After falling 5-2 to the University of Maine the previous night in Orono, the No. 18 Boston University men's hockey team looked to collect two valuable Hockey East conference points. The Terriers (6-7-1, 4-4-1 Hockey East) were able to do so as they beat the Black Bears (4-6, 3-3 Hockey East) 7-0.
On Friday night, BU couldn't capitalize on its offensive opportunities, but this was not evidenced by Saturday's scoreline.
The Terriers' head coach David Quinn said he thought a main reason for his team's success was making better decisions around the net.
"I thought we attacked with speed," Quinn said. "I thought we got pucks to the net. I thought we did a much better job staying around the net. When you do that, you get rewarded."
BU opened the scoring early as sophomore forward Patrick Harper set up freshman forward Shane Bowers from below the goal line 86 seconds into the contest.
Bowers sent a wrister from inside the right face-off circle that remained the only shot to get past Maine's junior goaltender Rob McGovern during the period.
Redshirt sophomore goaltender Max Prawdzik made his second collegiate start in between the pipes on Friday night. However, sophomore goaltender Jake Oettinger resumed his spot on Saturday and remained essential in keeping the Terriers' one-goal advantage as the Black Bears sent 10 shots his way.
It was BU's three-goal second frame that ensured the team the win in Portland's Cross Insurance Arena.
Within the first five minutes of the period, Greenway found the back of the net off a feed from sophomore defenseman Chad Krys after taking advantage of a turnover to push the Terriers' lead to 2-0.
Quinn commended his team's strong forecheck and keeping the puck in Maine's defensive zone.
"We hounded the puck, didn't give them a lot of time and space and I thought that caused some turnovers for us, which allowed us to take advantage," Quinn said.
Krys didn't stop there as he assisted freshman forward Hank Crone's first tally of his career at 13:46 as BU added an extra attacker on the ice.
While the Terriers were unable to capitalize on their two power plays of the period, freshman forward Brady Tkachuk poked the puck past McGovern with 43 seconds remaining in the period for his first goal of the season after amassing eight assists.
"It was definitely nice to get the monkey off the back," Tkachuk said. "It wouldn't go in for the past couple of games so it definitely felt good."
This marked the fourth freshman to score their first collegiate goal over the weekend after freshman defenseman Kasper Kotkansalo and freshman forward Logan Cockerill notched markers last night.
"It's going to be important for our freshmen to score because we're dressing eight of them every night so it means an awful lot to them and it means a lot for me," Quinn said.
In the final period, BU continued its onslaught with an additional three goals.
Junior forward Bobo Carpenter got a nice pass in front of the net from Greenway 11 minutes into the final frame. Bowers took advantage of the momentum and scored 22 seconds later.
Sophomore forward Patrick Curry and senior defenseman Brien Diffley were handed 10 minute game misconducts alongside Maine forward Chase Pearson and freshman defenseman Brady Keeper midway through the frame.
But this didn't slow down the Terriers as freshman forward Logan Cockerill scored with 36.1 seconds remaining in regulation to cap BU's win at 7-0.
Cockerill's goal on the power play was the Terriers' first power-play goal since their first game against Northeastern University on Nov. 4.
Quinn said that the power play is a "work in progress."
"The power play without question has to get better and we're just going to keep working at it, keep chipping away at it," Quinn said. "We get too stagnant and too predictable, but that's going to change."
Oettinger finished the night with 30 saves as well as recorded his sixth career shutout and his second of the season.
"You can't underestimate Jake Oettinger tonight," Quinn said. "I know we scored seven, [but] he made some key saves, some timely saves and boy did he look good tonight."