With the end of the 2018-17 academic calendar and spring playoffs approaching, we have found and ranked the best quotes from the Boston University coaches and student-athletes this year.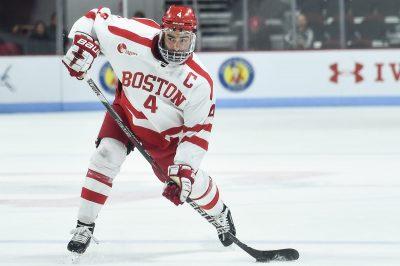 10.) "Every year, it's exciting. Two nights, two games, two big wins and you can walk out with a championship." – Women's hockey coach Brian Durocher before his team competed in its first Beanpot championship matchup since 2012.
9.) "She is a much different goalkeeper this year than last year. She is much more poise[d], she is much more confident, the game has slowed down for her. Experience is a great teacher." – Women's soccer coach Nancy Feldman on senior goalkeeper Hannah Ciolek adjusting to the No. 1 net minding spot.
8.) "At halftime, I said, 'You've been backed into a corner. How are you going to respond? Are you going to roll over and die, or are you going to come out swinging? Are you going to be a little bit more disciplined and more aggressive on the attacking front?' And I think we did that." – Women's lacrosse coach Liz Robertshaw after her team was down 12-2 at halftime against then-No. 6 Boston College.
7.) "The biggest thing he brings is that he leads by example. You need those kind of guys on your team because not everything needs to be vocal, you just got to show everyone how to do once in a while." – Men's hockey senior defenseman and captain Brandon Hickey on junior forward and assistant captain Bobo Carpenter's leadership.
6.) "I'm big on continuing to progress. I'm big on getting better. If you are satisfied with where you are at, then you don't fit on our team." – Softball coach Ashley Waters following her team's successful run early in Patriot League play.
5.) "We have no room to lose. For us, this game is our season." – Men's lacrosse coach Ryan Polley prior to his team playing the United States Military Academy, in search of a postseason tournament berth.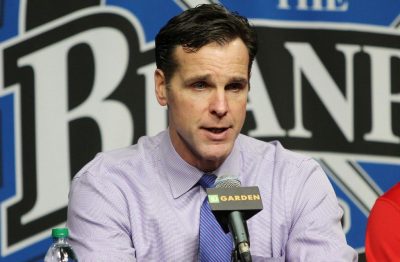 4.) "It's my teammates. You can't have an assist unless your teammate puts it away. My relationship with my teammates has allowed for that, and just being dedicated to being my best every day and doing what I need to be doing." – Women's lacrosse sophomore attack Kailey Conry on the reason behind her team-leading 43 assists. 
3.) "We definitely said coming into this game that enough was enough. If we're going to lose, we're not going to lose by being overrun on our field. We wanted to make sure that we made a statement that we weren't giving up our turf." – Men's soccer coach Neil Roberts following his team's first win of the year against Harvard University after an 0-5 start.
2.) "There's a reason they're the number one team in the country. There's a reason they're the defending national champions. It was an entertaining game, but I didn't come here to get entertained, I came here to win a hockey game and unfortunately we weren't able to do it." – Men's hockey coach David Quinn after his team fell 4-3 to the then-No. 1 University of Denver with 16.1 seconds remaining in regulation.
1.) "I have to look myself in the mirror. It starts with me. I have to get our team back on the right track." – Men's basketball coach Joe Jones after his team's third consecutive loss late in the season.