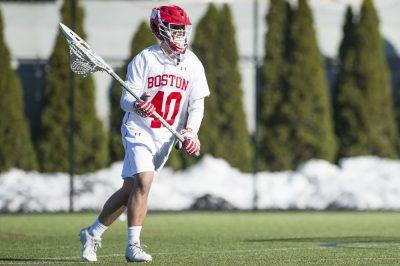 After knocking off No. 10 Bucknell University last Tuesday, the Boston University men's lacrosse team will set its sights on No. 8 Loyola University Maryland Friday afternoon during the Patriot League semifinals.
Tuesday night had been the first time in program history that the Terriers (8-7, 3-5 Patriot League) defeated a top-10 team, and Loyola (10-3, 7-1 Patriot League) will prove to be BU's  toughest challenge yet.
The Greyhounds secured the top seed in this year's postseason tournament and their lone conference loss of the season went to Buckell (11-4, 7-1 Patriot League) on March 24.
However, a bright spot for the Terriers remains the fact that the team completed a 12-11 comeback victory over the Bison in the Patriot League quarterfinals.
"I'm just really happy for the seniors, and I'm really happy for this team," BU head coach Ryan Polley said following the matchup.
Freshman attack Chris Gray propelled his team to its second straight semifinal appearance. The 2018 Patriot League Rookie of the Year honoree put up nine points against Bucknell and currently leads BU with 68 points — thanks to 30 goals and a team-leading 38 assists.
The Terriers' leading goal-scorer, junior attack James Burr, had two goals and one assist on the night.
Sophomore goalkeeper Joe McSorley backstopped the defense with 12 saves in net while the defensive line in front of him edged the Bison in ground balls 33-27 and allowed no goals on Bucknell's four extra-man opportunities.
Junior defender Quintin Germain only collected one ground ball, but limited the Bison's leading scorer, senior attack Will Sands, to two assists.
"We just put [Germain] out on an island and said, 'Listen, we really don't want Sands to get everybody else involved,'" Polley said. "So, we were trying not to slide to him at all and then [Germain] just did a wonderful on him — just kind of containing the ball and staying on Sands [who's] one of the best attackmen in the league …"
While Loyola boasts a strong offense that is led by junior attack Pat Spencer's 76 points (28 goals and 48 assists), junior midfielder P.J. Brown's career-high three goals led the Greyhounds in their most recent 12-8 win over the United States Military Academy.
Loyola never trailed Army (5-7, 2-6 Patriot League) during the contest and its defense held strong, preventing the Black Knights from mounting a comeback.
Senior defender Foster Huggins was essential to the Greyhounds finishing with a 42-31 ground ball advantage and forcing 17 turnovers.
Huggins currently leads the NCAA in caused turnovers with 3.38 per game.
Behind him, junior goalkeeper Jacob Stover made 12 saves to bring his goal save percentage and goals against average to .521 and 8.4, respectively, on 13 starts this season.
"[I'm] looking forward to playing a great team, and they're going to be hard to stop," Polley said. "They've got the best play in the conference, and I'm just really excited to keep playing and [to] have a really great game."
BU will look to avenge its 23-9 loss to Loyola that took place just under two weeks ago.
The Terriers only trailed 9-6 at the end of the first half, but were handed a 10-1 run by the Greyhounds in the third quarter and were unable to recover.
Despite the team's rough loss during the regular season, Polley said he knows his team will be alright come Friday, especially with many of the key defensive players back in the lineup.  
"Anything that could've went wrong, went wrong, so we're just going to clean the slate and go out and play and give it our best," Polley said. "The team has come a long way, and it's great having Chase [Levesque] and [Germain] back, but we also have Lukacs back, we have Okmin back, so this is the healthiest we've been all year."
Spencer put up nine points in the effort while freshman attack Aidan Olmstead notched four goals.
A total of 14 different Greyhounds found the back of the net against BU, including senior midfielder Jay Drapeau and freshman attack Kevin Lindley, who put up a pair of goals apiece.
Drapeau and Lindley currently lead the Patriot League in shooting percentage at .485 and .455, respectively, and will remain large threats to the Terriers.
In order to prevent offensive runs and replicating a similar performance to Tuesday night, Polley said his team playing with composure will be imperative.
"When … we don't turn the ball over and we clear the ball with efficiency and we give our offense a chance and when we execute a defensive game plan, we've got a shot at being pretty good," Polley said. "When we kind of make mistakes and we're unsure, we're not very good. So, for us, it's going to be understanding the game plan, executing it and playing with composure."