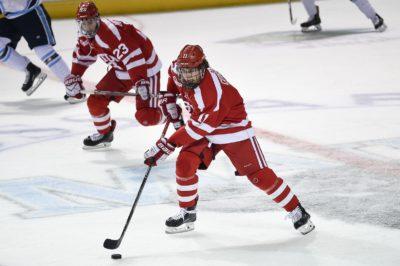 The No. 19 Boston University men's hockey team will take on No. 7 Cornell University at Madison Square Garden for the sixth edition of Red Hot Hockey on Saturday.
For the Terrier (6-7-1, 4-4-1 Hockey East) juniors and seniors, this matchup against the Big Red (8-1) will be their second trip to the NHL's oldest arena, as the matchup between the two schools occurs every two years.
"It's such a special night for both schools because obviously we've got such a strong alumni base in New York City, both schools do and … it's a little bit more special because it happens every other year," BU head coach David Quinn said.
The freshmen, sophomores and graduate transfer will have their turn at battling for the Kelley-Harkness Cup, which honors former BU head coach Jack Kelley and former Cornell head coach Ned Harkness, over the Thanksgiving weekend.
BU has gone undefeated in its past five matchups against Cornell in Red Hot Hockey, holding a record of 3-0-2, and played in front of sold-out crowds four times.
During the two teams' last outing in 2015, the Terriers came back in the third period after trailing 2-0. The contest eventually ended in a 3-3 draw after now junior forward Jordan Greenway provided an equalizer at 16:05 in the final period and notched his first collegiate goal.
A shootout then followed to determine who would take home the trophy in which BU emerged with a 3-2 win.
"The atmosphere [at the Garden] was unbelievable," Greenway said. "I didn't think that there were going to be as many people as there were … It's an honor to be able to play there every two years for the Harkness trophy so I'm looking forward to it again, [it] should be a good time."
This matchup between the Terriers and the Big Red marks the first non-conference game BU will play in since hosting then-No. 1 University of Denver.
In Hockey East play, BU has been unable to collect a complete set of conference points in each of its four home-and-home series thus far.
The Terriers coming off a weekend split against the University of Maine, where they fell in the first game, but came back the following night with a 7-0 win.
"We were just a little bit hungrier around the net," Quinn said of the second game. "I thought we were quicker offensively. I thought we did things we were going to have to do to be more productively offensively and certainly once one goes in, it's amazing how they all start going in."
Despite the good weekend, BU went one-for-10 on the power play. The Terriers have been in the midst of what Quinn called a "cold streak" in terms of their power play performance, as the team had not scored a power-play goal since Nov. 4 before last Saturday's contest.
"We've just got to move the puck quicker, we've got to get more pucks to the net," Quinn said. "We can't slow things down. I just think we're slowing things down too much right now."
Sophomore forward Patrick Harper continues to lead the Terriers in points with 14 after registering three assists over the weekend. Four freshmen — defenseman Kasper Kotkansalo and forwards Brady Tkachuk, Logan Cockerill and Hank Crone — all got their first collegiate goals during the series as well.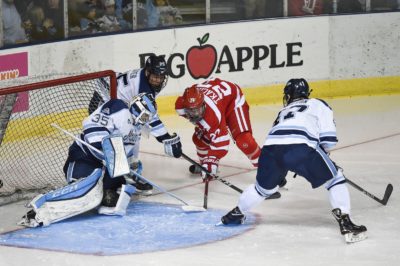 However, two faces that were missing from that lineup were senior defenseman and captain Brandon Hickey and senior forward Nikolas Olsson.
Hickey has been out with an upper-body injury since the Terriers played Northeastern on Nov. 4, but Quinn said, "He should be ready to go on Saturday."
Quinn also confirmed that Olsson, who has not played for the same four games, is hurt.
Senior forward Trevor Yates leads the Big Red in points with six goals and four assists, and junior forward Anthony Angello leads Cornell in shots with 24.
The Big Red are averaging 3.6 goals per game and accumulated a seven-game win streak, which was snapped over the weekend by No. 5 Clarkson University.
Tuesday, Cornell also beat Niagara University after coming out of a 4-2 deficit with three unanswered goals.
On the defensive side of the ice, the Big Red's freshman goaltender Matthew Galajda sits on a .913 save percentage and 1.92 goals against average over nine. Freshman defenseman Alex Green currently leads Cornell in blocked shots with 22.
"It's certainly going to be a test for us," Quinn said. "I feel like we've played good hockey and just we haven't found a way to win. Obviously we found a way to win the other night, and there were a lot of positives we can take out of this past weekend and we just got to keep building on it."