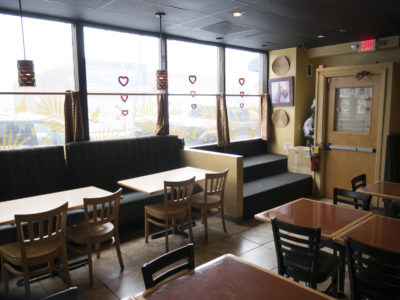 When Cecelia Lizotte immigrated to the United States from Nigeria in 1999, she experienced an immediate culture shock — everything around her was different. She found comfort in cooking, the same activity she used to do with her parents growing up. Her hobby turned into catering from her home for events hosted by friends and family, which almost 13 years later, turned into her own restaurant serving African cuisine.
The restaurant, Suya Joint, opened in Roslindale in 2012 with a menu of food from Nigeria as well as other African nations like Ghana, Sierra Leone and Liberia. Lizotte moved the establishment to Roxbury in 2016 because of the neighborhood's proximity to local universities and its history as a central point for Boston's black community.
"It's opening the doors to non-Nigerians that will have the flavor of African food," Lizotte said. "We had a lot of African-Americans who had never had that food, so it was great for us to expose the flavor to the community."
Suya Joint's interconnectedness with African culture made it an ideal spot to host the kickoff party for the Boston Black Restaurant Challenge, event organizer Frank Farrow said. The Feb. 1 celebration marked the beginning of a new annual tradition in Boston in honor of Black History Month dedicated to promoting black-owned establishments.
"It's a great way to support but also to bring the community together; to be able to meet and hang out with folks from your neighborhood, hang out in an establishment in your neighborhood," Farrow explained.
The challenge encourages Bostonians to visit at least four black-owned restaurants in the month of February. The concept originated in Baltimore, in an effort to benefit African-American businesses and draw attention to the presence of possibly less-known establishments. Boston is the first other city to accept the challenge.
Farrow coordinated with Lizotte to plan the kickoff party at Suya Joint, one of Roxbury's 10 featured black-owned restaurants, because of the restaurant's sit-down layout, ability to host a DJ performance and Lizotte's license to serve alcohol.
"Everybody was extremely excited to know that there's an establishment like this serving African food. I'm happy that we were able to pull through," Lizotte said.
People from across Boston began to gather at Suya Joint at 6 p.m., with the line stretching out the door in less than two hours. Patrons could order discounted dishes and drinks while listening to mixes by local DJ Shamara Rhodes.
Rhodes, 27, of Dorchester, blended songs ranging from Kendrick Lamar's "Humble" to Whitney Houston's "I Wanna Dance With Somebody," entertaining visitors for the hour and a half before Rep. Chynah Tyler borrowed the small stage to give a speech. Rhodes said she had a good relationship with Suya Joint to begin with, and when Tyler invited her to DJ at the kickoff party, she "couldn't turn that down."
"We turned what I usually do here and [Farrow's] vision into something nice and lovely," Rhodes said. "This is where you break bread, this is where you talk to people, this is where you open up. If we're gonna get 28 days, we might as well make good use of it."
Tyler also talked about the importance of celebrating Black History Month, especially with the African-American and activist history centered in Roxbury. Suya Joint is in Tyler's locale, the 7th Suffolk district, which experiences substantial income inequality on the basis of race. She said it's her duty to constituents like Lizotte to "make sure that this place thrives."
"If we want to be able to strengthen and be able to do away with being number one in income inequality, especially for minority people, then we need to be able to support initiatives that will be able to help do away with that. The Black Restaurant Challenge is one of very many in the city of Boston to be able to do that," Tyler said.
Kwame Sarfo-Mensah, 34, of Dorchester, said he appreciated the opportunity to bring more attention to black-owned restaurants and establishments in the area.
"There's always a need for more representation, particularly with people of color, more specifically black people," he said, "So to have a Black Restaurant Challenge that addresses that need is really important."
The challenge runs through Feb. 28.