The Boston Women's Market was held Sunday in celebration of female empowerment and in support of small businesses throughout the city on the lawn outside Jamaica Plain's historic Loring-Greenough House.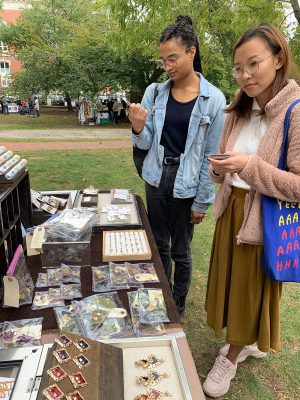 Helping small business owners, both new and experienced, is at the core of the Boston Women's Market, co-founder Cara Loffredo said. Loffredo originally created the market as a response to the political climate in the wake of the 2016 election cycle, hosting her first event in fall 2017. 
The market started with only 20 vendors; this weekend, the market featured 58 vendors.
"Women entrepreneurs can often feel really isolated," Loffredo said. "So it's important to create that that transparency and dialogue within your women community to realize that we're all in that boat. We all have those kinds of fears and challenges and self-doubts about what we're doing."
Loffredo said she has always worked in an entrepreneurial environment and now seeks to translate the experience through mentorship of over 600 vendors in the Boston Women's Market network with workshops, panels, social media and networking opportunities. 
One entrepreneur at the market was Willow Coigny, owner of The Faded Factory, an online store offering a collection of mixed-medium arts, vintage trinkets and freehand cross-stitches — many of which include a colorful assortment of curse words. Coigny drew a nearly constant stream of customers at the market as she stood behind a table of decapitated baby doll heads. 
Many visitors came to ogle the ceramic doll heads, from which Coigny had removed the hair in favor of planting succulents in the hollowed-out skulls and each was decorated with a variety of beads, glitter and lace, mounted on an assortment of tins and dishes. One doll head was even nestled inside a birdcage. 
"Whenever something would break," Coigny said, "that's just when I would start to make it into something else."
Coigny said she enjoyed vending alongside other female entrepreneurs and especially liked interacting with customers who just happened to stumble upon the market. 
One customer, 60-year-old Jamaica Plain resident Linda Drury, passed the market while biking home. Drury said she was drawn to Coigny's creativity and proudly showed off her purchase: a small bunny stuffed animal with a screw stuck through its forearms mounted on a framed, vintage school picture.
"I'm very pleased with how many different vendors there are and the variety of offerings," Drury said.
Although Drury said she wasn't aware of the market before passing by, she said she now plans to attend again in the future.
Other attendees were frequent shoppers, actively seeking out specific entrepreneurs whom they knew by name. 
Cecilia Villero, who self identifies as Goddess Cecilia, was a vendor at Sunday's market and said she is often approached by people familiar with her "pampering and pleasure" products sold from Athena's Home Novelties, as well as her inclusive sex education workshops.
Villero, who earned a certificate in Human Services Management at Boston University's School of Public Health, said she loves the market and the camaraderie all of the vendors bring. In her 13 years of business, Villero said she has also noticed a growth in the acceptance of independent business owners.
"When I started, I feel like there was still a lot of pressure to work for somebody," Villero said. "Now there's a lot more avenues for people to be able to work on their own and do the stuff that they love and get paid for it."
Unique Top, owner of iLoveFGC, a pop-up boutique selling items at the market from her online store, Fly Girl Couture, began her business with the goal of making "every woman feel like a fly girl."
"I'm a plus-size girl and I've always had trouble finding the same fashionable items as my friends," Top said. "So I bought a sewing machine, I read the manual and I just started making clothes."
Now, Top cultivates a collection of clothing, sunglasses, buttons and most recently, laser-cut earrings.
Top also works to support artisans in other countries, such as her brother-in-law who she sends some of her clothing designs to for him to produce in Senegal. Top sells beaded jewelry crafted in Kenya as well.
One of Loffredo's newest mentees is 26-year-old South End resident Jessie L'Heureux, who created Brownstone & Main, a subscription box supporting women-owned small businesses, in June. 
L'Heureux collaborates with female entrepreneurs across the country to curate a collection of self-care and beauty products, which she sells in bimonthly subscription-based boxes. 
"There's such a huge passion in the women-owned business industry, but we don't see a lot of women-owned companies being promoted," L'Heureux said. "I'm grateful that we have the opportunity to live in a world where we can have such powerful female entrepreneurs that can really change the landscape of the United States and that starts from the bottom-up and in small businesses."
In honor of National Newspaper Week, we're asking you to make a donation to The Daily Free Press. The financial support of our community is important now more than ever to help us continue writing stories like this for readers like you. Please chip in whatever you can. Read more and make a donation here. Thank you.
Correction: A previous version of this article stated that Villero attended the market, when in fact she was a vendor.