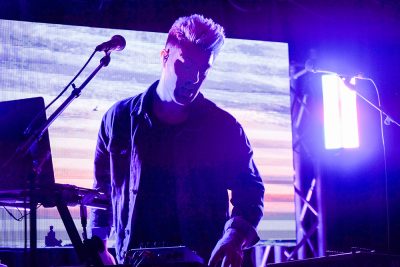 Boxed in behind two MIDI keyboards on a cramped wooden stage, producer and DJ ayokay barely stood still for a moment, bouncing and jumping back and forth to the beat along with the crowd. Ayokay, whose real name is Alex O'Neill, performed a sold-out show Sunday night at the Great Scott in Allston.
"This is the first sold-out show on this tour, of my whole career actually," O'Neill admitted to the crowd while sporting a grin that stayed on his face for nearly the whole show. "Thank you guys, from the bottom of my heart."
Ayokay's show at Great Scott was preceded by opening band SHAED, an electro-pop group whose hit "Trampoline" was recently featured in an Apple commercial.
The trio, composed of lead singer Chelsea Lee and twin producers Max and Spencer Ernst, hyped up the crowd before ayokay's set and attracted their own fans who sang along to their hits "Thunder" and "Lonesome."
Even as the onset of Daylight Saving Time shortened the span of sunlight for Bostonians, O'Neill injected a blast of evening sunlight, wild youth and summer into the chilly air with his bright lyrics and energetic beats.
He opened with a video montage that slowly expanded on the screen behind him, featuring a girl running, flowers and the title of his new album "In the Shape of a Dream," which was released in August. The intro segued into "The Shine," one of ayokay's most popular songs — a collaboration with vocalist Chelsea Cutler.
Despite his one-man act and pre-recorded vocals, O'Neill kept the audience engaged with his stage presence. The energy was high from the beginning of the show, as O'Neill rocked back and forth on his Converse-clad heels silhouetted against the flashing background and strobe lights.
Periodically between songs, O'Neill would encourage the crowd to "make some f—ing noise" to great applause.
Ayokay first began gaining a following in 2016 with a single called "Kings of Summer," which has over 48 million listens on Spotify. The song was a collaboration with O'Neill's childhood friend Mike Temrowski, who makes rap music under the name Quinn XCII.
Ayokay has had more recent success with singles "The Shine," "Half Past You" and "Sleepless Nights."
Those hits made their way onto the setlist over the course of ayokay's hourlong set. The songs flowed smoothly into one another as the background visuals did similarly, alternating between landscape shots of city skylines, West Coast palm-lined roads and young people running in slow motion.
While the pumping bass and synth of ayokay are very 2018, the lyrics call to mind evenings and past romances lost to the rush of young life.
On the album, many of his songs have a calm, smooth feeling to them, but ayokay's live performance was charged with emotion and passion as the beats and driving portions of the songs were emphasized.
The songs still hold the same hard-to-capture aura of summer adventure and occasional melancholy, but when performed live, they are more representative of the fleeting moments the lyrics often describe.
During the show, O'Neill didn't limit himself to his own original music and slipped in some of his own remixes of hits such as M83's "Midnight City" and Lana Del Rey's "Summertime Sadness." Some of these remixes are available on Spotify, including O'Neill's take on "Run Away With Me" by Carly Rae Jepsen and "Turn" by The Wombats.
Songs from "In the Shape of a Dream" dominated the setlist, from bouncy and flowing "Swing Swing" to the more intimate "Stay With Me."
The visuals for "Queen," another one of O'Neill's collaborations with Quinn XCII, featured a girl driving triumphantly down a palm tree-lined road, and O'Neill sang along with the vocals on the chorus.
"We're washed out now / All the colors blur / Now you're not here / Was I anything that you needed," O'Neill sang on "You're Not Here," which he confessed to the crowd was his "favorite one on the album."
Even for songs that seemed more chill and slow-paced on the album, O'Neill maintained the energy with his dancing and boundless enthusiasm, which was visible even in silhouette.
Ayokay closed the show with the hit "Kings of Summer" and made a rare exit from his corner behind the keyboards to dance up close in front of the crowd as they fist-pumped along.
O'Neill retreated to the merchandise table immediately after the show to greet fans. The whole show, although packed with material, had a similar feeling of many of ayokay's individual songs — as hard to firmly pin as a summer evening, and just as bright.