In a city of chaotic traffic and hopeful climate goals, the research of Stanford University Postdoctoral Scholar Mauro Salazar in the prospect of driverless vehicles models the desire for a more efficient transportation system.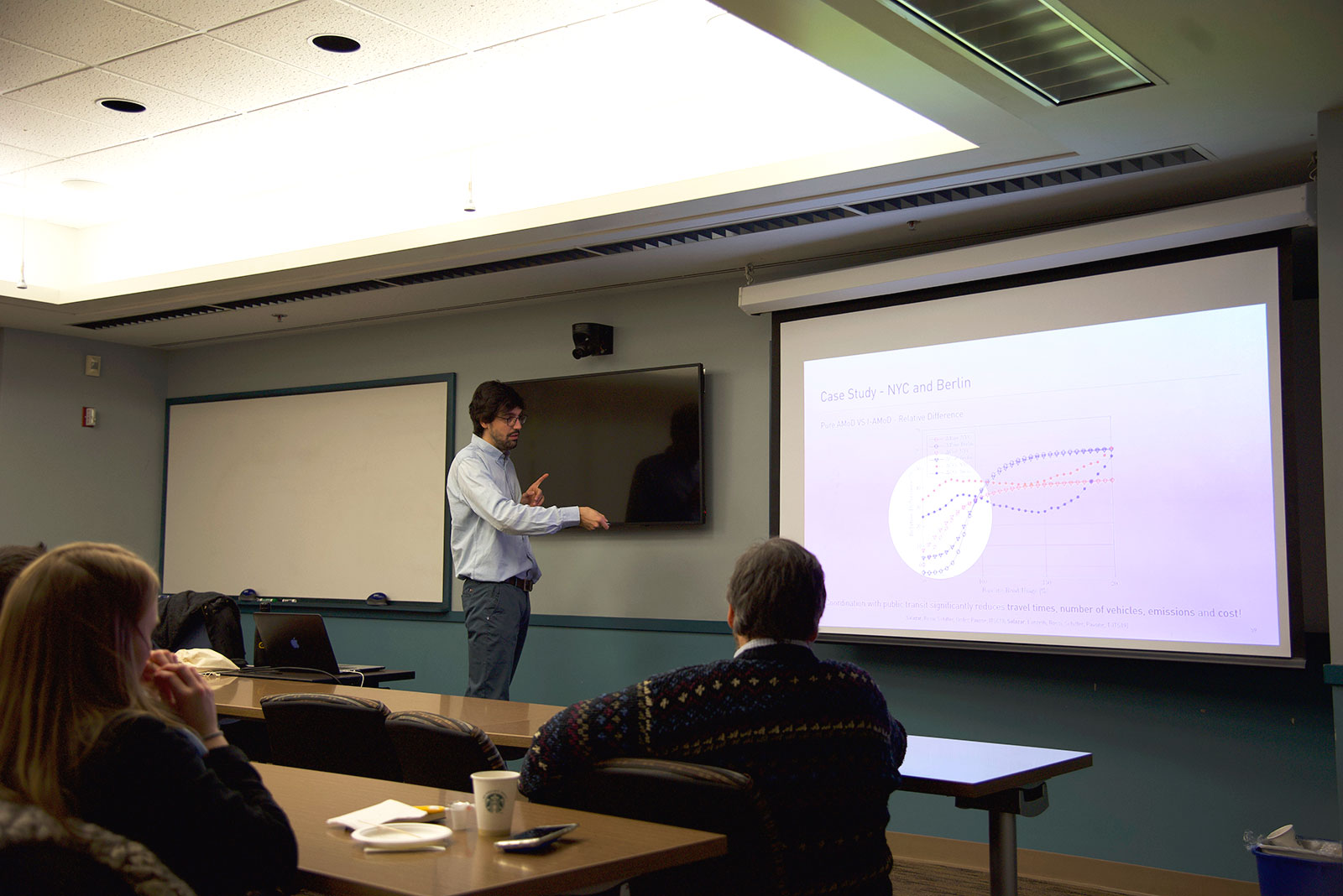 Salazar presented a summary of his work on control systems for the F1 car and for autonomous driverless ridesharing services at a talk at the Boston University Center for Information and Systems Engineering Tuesday.

The lecture was facilitated by the CISE Seminar program, which connects PhD students with scholars from around the country to "encourage research collaborations and enhance student educational experiences," according to their website.

Arian Houshmand, a fourth year PhD candidate in Systems Engineering at BU and student host at the event, worked with Salazar on a project last year related to eco-routing for electric cars. Like professional conferences, Houshmand said CISE talks can serve as a space to build relationships with potential research partners.

"These talks at CISE talks can have the same purpose [as conferences]," Houshmand said. "You see different professors here, and then people can collaborate with each other. Just start a conversation there and then a new project can come out of it."

During his lecture, Salazar discussed his research topics while connecting them to a wider theme of optimizing mobility systems.

Salazar described the three main challenges in achieving optimal mobility as dissatisfaction with mobility options, congestion problems and the current environmental crisis.

As today's transportation methods cause greenhouse gas emissions to rise, Salazar said the aim is to make vehicles and transportation systems that achieve multiple goals.

"To completely fulfill smart mobility, the systems must be first environmentally friendly, socially inclusive and also, of course, economically viable," Salazar said at the event. "To this end, the design and operation of the systems must be tailored to the specific application."

Salazar showed the models he and his team at Stanford's Autonomous Systems Laboratory use to project how a potential fleet of self-driving cars could work together with the public transit system to lighten traffic problems in cities and allow people to easily move around.

Salazar's case study for the project was based in Berlin and New York City, which have largely contrasting street layouts. Many factors come into play when designing the control methods for a self-driving vehicle project, Salazar said in his talk. Issues such as congestion, street maps and cars moving themselves to areas of high traffic to assist customers all affect the development of such a project, he said.

"This entails the need to have a comprehensive set of tools to solve such design and operational problems," Salazar said. "And also enabling us to find the killer applications that are competitive on the market side but also more sustainable."

Christos Cassandras, faculty host of the seminar and the head of the Division of Systems Engineering at BU, said he believes self-driving systems affect a range of topics and are not simply limited to transportation technology.

"The interesting thing about [self-driving technology] is that it's very interdisciplinary," Cassandras said. "It's not just about technology, which is what we focus on, but it's also about economics, policy and really, social aspects of the technology."

Without the cooperation of the public transit system, Salazar said a self-driving car in New York might be limited by congestion in the middle of the city. It is vital to consider options such as walking and public transit in order to establish a complete picture of an average New Yorker's daily transportation uses, he said.

Cassandras, who is also co-chair of the Boston Mayor's Office of New Urban Mechanics, said he believes Salazar's research on improving congestion can be applied to the city of Boston. He pointed out that Boston was recently rated the most congested city in the country by the Global Traffic Scorecard, released by transportation firm INRIX.

"We don't want to be blind engineers, just developing all of this wonderful technology without recognizing that it has to be accepted, it has to be economically feasible, it has to be respectful to the environment," Cassandras said. "That's all a new ball game."