Terpsichore, Boston University's oldest a cappella group, has long been a fixture at the university, putting on regular concerts and recruiting members to join the all-female ensemble.
This year marks 30 years since the group, known as the "Terps," was founded in 1989.
To celebrate, the group is putting on a 30th anniversary concert this Saturday at 7 p.m. in the Morse Auditorium. The group invited alumni from all the way back to the group's founding. Terpsichore's brother group, the Dear Abbeys, will also perform at the concert.
Loren McCullough, Terpsichore's treasurer and a junior in the College of Arts and Sciences, said she is looking forward to the upcoming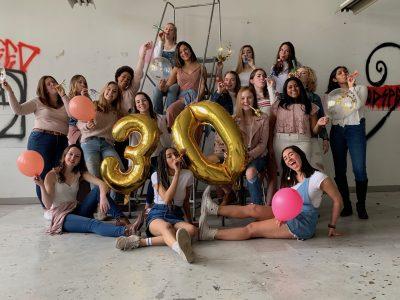 performance.
"It's cool to do a concert that is all about us and about celebrating our history," McCullough said. "There's a lot of work that's going into making all these voices sound good together."
Ixchel Lemus-Bromley, Terpsichore president and a senior in the College of Communication, said Saturday's concert will bring together around 60 Terpsichore alumni to perform with current members. The alumni cohort includes two original founding members, Michelle Poppleton Chumsae and Elizabeth Siler.
Reaching out to alumni wasn't a simple process, Lemus-Bromley said. The group leaders, she said, relied on an email list that often resulted in emails bouncing back before they were able to speak with former singers. Eventually, a Facebook group was made to help contact alumni, Lemus-Bromley said.
Terpsichore's business manager and CAS junior Joanna Wagner said she found the process of reaching out to alumni both difficult and rewarding.
"We've had a couple of alumni step forward and help us contact a number of other alumni. But it was definitely an effort," Wagner said. "Everyone was so eager to come back, though–we have people coming from the West Coast, and from all around the country. A couple of groups of alumni are staying together in Airbnb's."
Wagner said the excitement of the show lies in the opportunity for multiple generations of BU musicians to work together.
"A lot of the first-generation Terps are older and have families and children, whom they're bringing to the concert," Wagner said. "We're excited for them to have the chance to show their kids a part of their college experience."
The group had a promotional campaign this semester to get the word out about the show, including painting the Greek Rock on the BU Beach and creating a "Carpool Karaoke" video on Facebook. McCullough said they are also putting out a medley single that they will perform for the first time live at the show.
Terpsichore singer and CAS freshman Molly Raddant said composing the medley is one of the things she is most excited about for this semester.
"Being able to show off something that we're going to be able to put on Spotify is just really, really exciting," Raddant said. "There's so much work that's gone into all this that we really haven't had the time or resources to put into a concert before this."
The Terpsichores hosted a GoFundMe campaign in the fall to help pay for the event according to Wagner, which was especially helpful in the face of a smaller budget this year.
"I've been business manager for three semesters, and this show is the one we've had to work the longest in advance to plan for," Wagner said. "We had to commit to a lot ahead of time and we were lucky to hold on to most of our e-board between semesters. We were able to sort of put a pin in it in the fall and put it back in the spring."
Terpsichore member and CAS freshman Kelley McCutcheon said she is excited to have the chance to make connections with alumni and finally perform what they've worked on all year.
"There's a really exciting energy right now," McCutcheon said. "This is my first really big concert, and we're having these alumni coming whom I've never met. To see how the group was back then will be really cool, since the only group I've ever known is the one we have now."
Typically, Terpsichore plans concerts over the course of a semester, but Lemus-Bromley said the idea for the "30th Birthday" concert was thought up by the Terpsichore leadership team last June. Since then, the group has been planning for the event, coordinating with alumni and working out how to accomodate a larger group of singers putting on a single show together.
"We want to thank [our alumni]," Lemus-Bromley said, "reminisce with them and show them how the group has evolved over time."