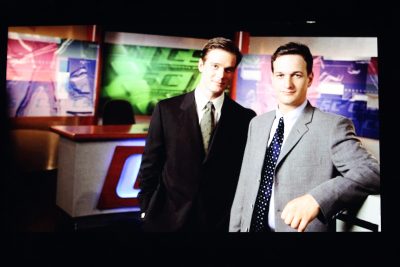 One of my favorite things in the world is starting a new television show and telling people about it. I love figuring out which genres my friends and family like and tailoring my recommendations to them. For example, I know my mom will watch anything about a small-town doctor, and my brother will watch anything that's similar to "The Office." I think by now, however, everyone I know is sick of hearing me wax poetic about TV, so I'll do it here instead.
If you like "The West Wing," watch "Sports Night"
Give "Sports Night" a try if you're sick of rewatching "The West Wing" and "The Newsroom" was too much to bear. It's probably even more Sorkin-y than "The West Wing" — walks and talks and inspirational speeches galore. There's a lot of repetitive arguments and SAT words to wade through, but if you like it, you'll absolutely love it. It's a really great workplace comedy with super-serious sports problems and cute office romances.
If you like "The Good Wife," watch "Boston Legal"
So you love "The Good Wife," but sometimes it's a little too serious, or you're waiting to watch it with your mom because it's one of the only shows you both like. You ventured into the pinnacle of USA Network dramas, "Suits," and you were there for a while, but it's starting to get a little old. "Boston Legal" might be the show for you — it's tonally somewhere between "The Good Wife" and "Ally McBeal," like a lawyer show written by a weird mix of writers from "The Simpsons" and "Law and Order." It has fun characters, weirdly compelling cases and banger guest stars.
If you like "It's Always Sunny in Philadelphia" watch "Vice Principals"
It's hard to describe the tone of "Vice Principals," but if you've seen anything featuring actor and writer Danny McBride, you'll know exactly what I mean. It's goofy, raunchy, sometimes surreal and often mean, but with a really big heart. If you like the dirtbag comedy of "It's Always Sunny" but you also kind of find it depressing, "Vice Principals" is the answer. While the characters are harsh and deeply insecure, they love each other in some twisted way that lightens up all the cruelty.
If you like "White Collar," watch "Sneaky Pete"
I am obsessed with this show and I feel like I'm the only person on the planet who has seen it. Two of my favorite genres are family dramas and con crime stories, and this show is an incredible amalgamation of both and more. "Sneaky Pete" has heists, underground card rooms, tense family dinners, Bryan Cranston and more secrets and lies than you could ever ask for. I would highly recommend this show if, like me, you loved all those USA Network and NBC crime dramas such as "White Collar" and "The Blacklist."