Sometimes when I'm watching television, there are characters or storylines I want to see more of. These are characters who desperately need spin-offs. Hollywood, if you're listening, here are some ideas.
HBO's Lawyer BFFs
Two of my favorite shows that came out this year were "The Undoing" and "The Flight Attendant," and they each have something in common: New York lawyer best friends. In "The Undoing," Grace Fraser's best friend, confidante and legal advisor Sylvia Steinetz is a cool mom and successful lawyer. 
Cassie Bowden's best friend is Annie Mouradian, a lawyer for powerful and secretive criminals. I'm thinking that after both are fired from their respective firms, Annie and Sylvia meet at a Midtown wine bar and decide to start their own practice. It would be a show about what happens when a cool millennial starts a business with a wealthy Upper East Side mom.
Mac Hacks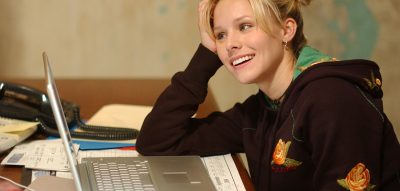 In "Veronica Mars," Cindy "Mac" MacKenzie is one of amateur P.I. Veronica Mars' trusty sidekicks. Mac first appeared in season one of the show and she and Veronica became friends, even attending the same college. Mac's role was Veronica's tech gal. She would handle any online-related information that Veronica needed. Mac is sweet, funny and highly skilled, so I think she deserves a spin-off. I want her in a show about a hacker — think "Mr. Robot" but a lot funnier. I see her as an underappreciated and underpaid Silicon Valley coder who gets recruited by a rag-tag group of hackers.
Special Agent Peralta
At the end of season one of "Brooklyn Nine-Nine," Jake Peralta goes undercover in New York's mafia. At the beginning of the season two premiere, Jake's operation ends with the cops busting them. What I want to know is what happened in between. So, this would be a mini-series taking place between seasons one and two of "Brooklyn Nine-Nine." The series would be a comedy-drama following Jake as he infiltrates the New York mob and the friends he makes along the way.
The Battle of Las Vegas
All I really want is for Giovanni Ribisi and Jeremy Strong to be in something together. I don't care if they play brothers, cousins, friends or enemies, I just want to see them act together. I love "Sneaky Pete," which is where my Ribisi obsession began, and I wish it never ended, but a spin-off would certainly suffice.
In "Sneaky Pete," Ribisi plays Marius Josipovic, a con-man who tricks a family into thinking he's their estranged grandson. For this spin-off, I'm thinking Marius heads to Las Vegas for some fresh meat. He cons someone in a casino and then gets picked up by Strong, who is playing a Vegas con artist who warns Marius about working on his turf. Not one to back down, Marius proposes a competition: Whoever can con the biggest whale gets to stay.