Season 18 of "Top Chef" started this week, and I am ecstatic. I've been a casual "Top Chef" watcher since I was a kid, but I really dug into the old seasons during the pandemic. If you're new to "Top Chef," you can watch the new season without any confusion. But if you want a little more background, you might want to watch some of the best earlier seasons.
Because of the pandemic, this season couldn't have its usual rotation of celebrities or famous and local chefs as guest judges. To be safe, a panel of all-star former "Top Chef" contestants will eat at every elimination challenge and trade-off for the guest judge spot.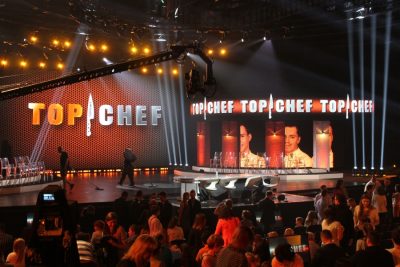 Even if you haven't seen the guest judges' respective seasons, season 18 seems like it's going to be a good one. The contestants appear to be very talented, and the pandemic will likely force them to be more creative in challenges. That being said, if you want to be extra studied and excited about this season's guest judges, here's a guide to the highlights.
"Top Chef: Chicago"
The early seasons of "Top Chef" are pretty rough. The contestants are meaner to each other, and the judges are meaner to the contestants. Even host Padma Lakshmi was pretty rude sometimes. Chefs are notorious for being angry — and it's a reality show, so of course there are going to be fights. 
But the early seasons were louder, darker and meaner. Of all the early seasons of "Top Chef" that I've seen recently, Chicago was the most fun despite the occasional meanness. This season has some of the most important contestants, including "Top Chef: All-Stars" winner, frequent guest judge and season 18 panel judge Richard Blais. You'll get to know his love of weird techniques, his competitive intensity and his mile-high hairdo. Dale Talde, another judge on season 18, is another key player in Chicago who you'll love to hate.
"Top Chef: Las Vegas"
This season is often hard to watch. Some of the contestants behaved incredibly inappropriately — and quite honestly, are  not very talented. However, the redeeming stars of this season are threefold: the Voltaggio brothers, Jen Carroll and Mike Isabella. The Voltaggio brothers are an essential part of "Top Chef" lore. Michael, the younger Voltaggio, is your typical rockstar rebel chef. All he wants is to beat his older brother Bryan, who is a pretty nice, quiet guy. Bryan becomes the runner-up in the second all-stars season, Carroll comes back two more times and Isabella goes on to be a finalist in "Top Chef: All-Stars." I'm sure they'll all make an appearance in Season 18.
"Top Chef: All-Stars," aka "Top Chef: New York"
This season has amazing contestants from many seasons of "Top Chef." Special shoutout to Tiffani Faison, chef and owner of Sweet Cheeks Q in Fenway. What's great about this season is that it's basically a showdown between some of the best chefs from Chicago, Las Vegas and beyond. It's fun to see Chicago favorites reunite and interact with the other chefs. One of the best parts is Blais' friendship with Fabio Viviani.
It also has some really fun challenges, including cooking Italian food for Lorraine Bracco from "The Sopranos" and making a birthday meal for Jimmy Fallon.
"Top Chef: Seattle"
Because "Top Chef: Seattle" is the show's 10th season, they had some wild obstacles to throw at the contestants. It has a fun qualifying round with great celebrity judges and multiple crazy twists. A few all-stars return — Stefan Richter is a favorite, and I'm planning on watching his first season next.
"Top Chef: Boston"
If you are a Boston University student, you have to watch "Top Chef: Boston." It is deeply Bostonian, full of challenges like cooking for Norm from "Cheers" and a Revolutionary War showdown. This season also has Gregory Gourdet and Melissa King, who both return for "Top Chef: All-Stars L.A." and are on season 18's all-star panel. 
"Top Chef: Charleston"
If you love a comeback, I highly recommend this season. If you watched "Top Chef: Seattle" and felt bad for runner-up Brooke Williamson, you need to watch this season. It's fun because it's half returning contestants and half rookies, which is a very tense and fun dynamic.
"Top Chef: All-Stars L.A."
I forgot how much I loved "Top Chef" until this season reminded me. It has one of the most likable casts I can remember. Again, it's great for comebacks. You've got Bryan Voltaggio, Carroll and Stephanie Cmar — a Bostonian who was previously eliminated in season 11 after making a good dish because her teammate had immunity. Seeing Cmar return and rock the competition was fun. The contestants also seem to genuinely like each other.
Bon appetit!