"This career is weird," Sam Morril, the stand-up comic headlining the Wilbur Theatre next weekend, said. "You do it forever, and then out of nowhere it feels like you get a pop."
The last time Morril was in town, he was performing at a local comedy club. Now, he said, he's excited to take that next step up in a city he holds near and dear to his heart.
"It's pretty wild to be doing that many shows in that historic venue."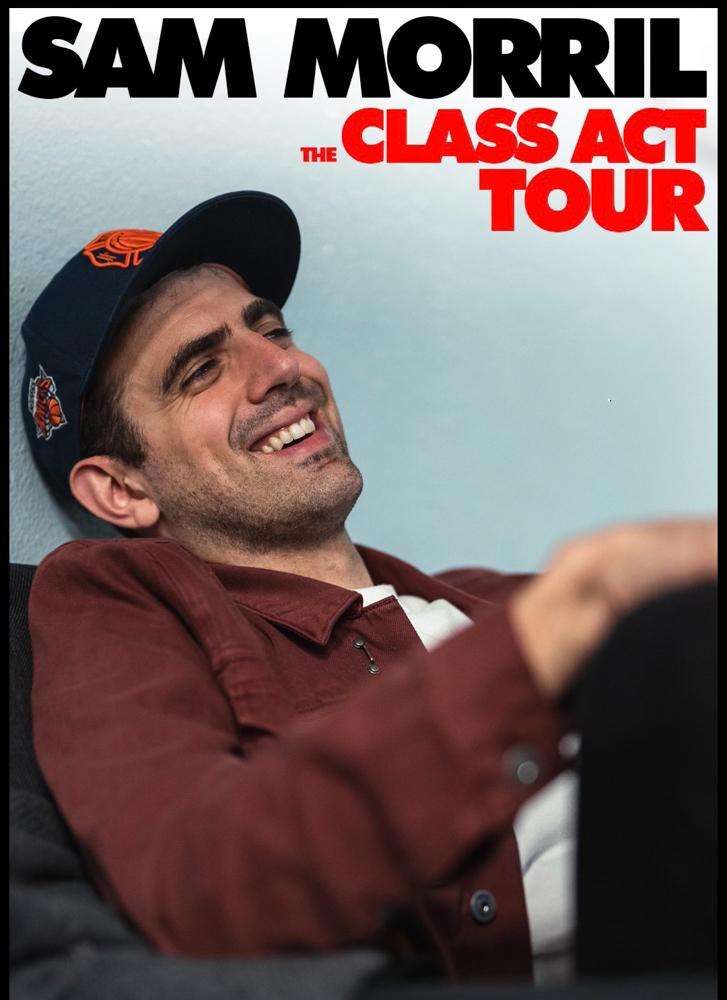 The Wilbur Theatre is located in the Theatre District of Boston, an area Morril said he and his family are familiar with.
"My dad grew up going there. So [when I said] 'The Wilbur' to my dad, he was like, 'Damn. The Wilbur," Morril said. "It carried weight."
"The tour has been … the best year professionally in my life for sure," Morril said.
Despite being an avid New York sports fan, Morril said "a city is more than a sports rivalry."
"Boston culture is great. I love it," he said. "My family, we go to Cheers every Black Friday. By the way, you don't need more food the day after Thanksgiving, but we did it. It was a tradition because you know, we all loved 'Cheers' growing up."
Opening for Morril is his friend and fellow comedian Gary Vider. He is also joined by his tour manager and James Webb, who directed Sam's last special, "Same Time Tomorrow," which is currently streaming on Netflix.
"Same Time Tomorrow," was filmed in Chicago at "The Den," which Morril said was a "really cool spot" where he taped seven shows. Taping all those shows, Morril said, was "iconic."
"It's a lot of money," he said. "It's a lot of time, it's a lot of editing. You make life harder on an editor."
As a "comic that doesn't really take time off," Morill also co-hosts the podcast "Games with Names," with former NFL wide receiver Julian Edelman. Morril said they just finished their first season at 26 episodes, which featured guests like Boston legends David Ortiz, Paul Pierce and Zdeno Chára.
"We Might be Drunk," another podcast hosted by Morril, alongside fellow comedian and longtime friend Mark Normand, started over the pandemic. The producer then built a bar in a studio.
Since then, the two have not looked back.
"We would just Zoom and have a drink and talk," Morril said. "I was like, maybe this is the show … The premise of the show is your drinking buddies. At a certain point in life, you get older, and you don't really have every night to drink together anymore, you have to make the one night count."
Unlike other podcasts, Morril said, he doesn't find himself burnt out after taping.
"We really do have fun together. We leave [taping] a lot in a good mood," he said. "That might be the alcohol."
Avery Lender, president of the BU Stand-Up club, saw Morril perform two summers ago at the Westside Comedy Club in New York where she works. She said he is "rising up" and "destroying the deadpan style of humor."
"It's really cool to see how his career has kind of blown up," Lender said.
Lender said she grew up watching Comedy Central and has known Morril for years now.
"He leaves a lot of room for the audience to sort of think and feel however they want. Despite him giving them nothing," said Rohan Sharma, a freshman in the College of Arts and Science.
Renee Walden, a freshman in CAS, said Morril's social commentary in his jokes is a good use of the platform. The commentary is "necessary to keep society on its toes," Walden said.
Sam Morril will be performing at the Wilbur Theatre from March 10-12, and although the first two days are sold out, tickets are still available for March 12.
Considering the tiresome nature of the entertainment industry, getting a Netflix special, while cool — as Morill remarked — was more of a well-deserved reward than an exciting shock.
"When you get stuff in comedy, you're rarely jumping for joy," he said. "You're more like, 'Yeah, motherf*cker, it's about time.'"