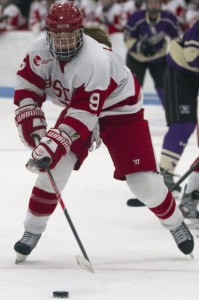 The Boston University women's ice hockey team announced its 2014-2015 schedule Tuesday, showcasing a challenging – if not intriguing – set of matchups for the Terriers.
With another Hockey East championship under their belt, the Terriers face one of their most grueling schedules to date.
Following an exhibition game Sept. 27 against Queens University, the Terriers begin their season with a tilt against St. Cloud State University on Oct. 3. The next day, BU will face off with 2013 NCAA champion and growing cross-country rival University of Minnesota. Both of these matchups will take place at Ridder Arena in Minneapolis.
BU's next tilt will certainly be notable, as the Terriers will face off against the Boston Blades of the Canadian Women's Hockey League in an exhibition game on Oct. 11.
After taking on the Blades, they will travel to reigning NCAA Champion Clarkson University for a two-game series starting Oct. 17.
BU will begin Hockey East play on Oct. 24 with a two-game road set against the University of Maine, quickly followed by two more conference matchups, this time facing Northeastern University as well as the University of New Hampshire at Walter Brown Arena.
The Terriers will resume their Commonwealth Avenue rivalry on Jan. 7 when they travel to Chestnut Hill to face off against Boston College. BU will duel with the Eagles two more times to close out the season with a home-and-home series on Feb. 19 and 21.
BU will have the chance to play BC at another point this season, as the Terriers will once again participate in the Beanpot Tournament, which includes the Terriers, Eagles, Huskies and Harvard University. This year's women's Beanpot Tournament will be held at Harvard's Bright Hockey Center. BU will open the series against the Crimson in the Beanpot semifinal on Feb. 3.
All in all, the Terriers will play 32 regular-season games, 21 of which will pit them against Hockey East opponents while the other 11 are reserved for non-conference adversaries.
Going into its 2014-2015 campaign, BU will look to grasp its fourth-straight Hockey East championship and its fifth in six years. Meanwhile, BU coach Brian Durocher is expected to reach the 200-win mark for his career as he goes into his 10th year with the Terriers.
Both of these goals appear quite attainable with the return of senior forward Marie-Philip Poulin. The Beauceville, Quebec, native is returning from the Canadian national women's ice hockey team after participating in the 2014 Winter Olympics, during which she scored the game-winning goal in overtime to capture the gold medal for Canada against the United States.
During her junior season at BU, Poulin tallied a team-high and career-high 55 points. For her efforts, Poulin earned Hockey East First Team honors as well as spots in both the Frozen Four All-Tournament Team and the Hockey East All-Tournament team.
Aside from Poulin's return, the Terriers are also in good shape with the presence of junior forward Sarah Lefort and sophomore forward Maddie Elia. Elia is coming off of a freshman campaign in which she notched 28 points off of 13 goals and 15 assists.
Lefort was the second Terrier in the program's history to be named a Second Team All-American during her sophomore season. Lefort finished the season with 32 goals and 23 assists – good for 55 points – which ranked fifth in the country. She also led the country with eight game-winning goals.
With the loss of graduated goaltender Kerrin Sperry, BU will have work to do in practice to get its defense in shape for its tough schedule. However, an impressive influx of scoring talent will give the Terriers the offensive firepower to compete with all of the teams on their bill.