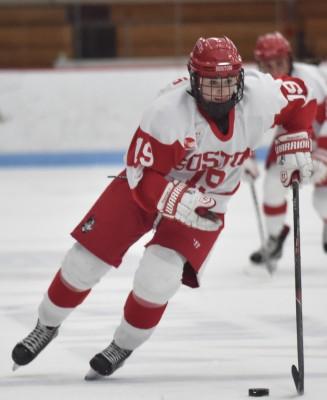 With the Boston University women's hockey team caught in a bind Saturday against the University of New Hampshire, sophomore winger Rebecca Leslie came to the rescue once again.
Stuck on the penalty kill in a tie game with less than five minutes remaining in the third period, the Terriers (19-11-2, 16-4-2 Hockey East) took possession of the puck in their defensive zone, moving it up ice. Sophomore center Victoria Bach sent a seam pass between two UNH (10-21-1, 7-15 Hockey East) defensemen to Leslie. The Ottawa native glided into the offensive zone, hesitating just for a moment before letting a wrister go. Her shot glanced off Wildcat goaltender Kyra Smith into the net, capping a furious comeback and 6-4 win for BU.
"I like to keep the puck on my stick on the penalty kill," Leslie said of her shorthanded strike. "I think that works the best, when we just control it when we can and kill the time. I kind of just shot it and it happened to go in."
The score marked Leslie's fourth shorthanded tally of the season, tying her for the conference lead with No. 6 Northeastern University captain and U.S. Olympian Kendall Coyne. According to BU assistant coach Katie Lachapelle, bringing offense to the penalty kill is just one of Leslie's many strengths.
"She's a really smart player," Lachapelle said. "So I think she times it right and makes good plays, kind of knows when to jump in, knows when to dump the puck, knows when she's got an opportunity to keep going with it."
After racking up two goals and an assist Saturday, Leslie went back to business on the road Sunday, scoring once in BU's 6-2 win and helping her team complete a crucial weekend sweep.
Leslie sits fifth in Hockey East with 43 points on 11 goals and 32 assists. Alongside her at the top of the table are Coyne and the dynamic senior duo of Alex Carpenter and Haley Skarupa for No. 1 Boston College.
Head coach Brian Durocher said he believes Leslie's name belongs in the conversation of best forwards in the conference.
"You know, I think she's had one of those years where you could clearly see her as an All-Star," Durocher said. "You know with Carpenter, Coyne and Skarupa, they're three real, real high, but she's got to be a kid that if you look at your top six forwards, you pick for the Hockey East All-Star Team."
Durocher continued, noting that Leslie's contributions help make those around her better as well.
"I got to think she's right in that category and a very valuable player because, again, she plays in all situations and her linemates are playing well," Durocher said. "I think she's certainly helped her linemates. [Junior center] Maddie [Elia] and [senior wing] Rebecca [Russo] are having great years, and when she was playing with Victoria Bach earlier in the year, things continued."
With Leslie's help, both Russo and Elia have reached career highs in points this season, and the line has posted a combined plus-50 scoring margin on the campaign.
Durocher noted that while Leslie may not have a signature skill to set her apart like senior forward Sarah Lefort does, her jack-of-all-trades mentality has paid off this year.
"Again, she's a really complete player and somebody who I think is so smooth that [it] is probably subtle in a certain way," Durocher said. "You know, you've got other people that have certain talents that you notice — the hands of Elia or Bach's shot, the strength of a Lefort — but she's just one of those kids that is just effortless and very good in just about every area. And she certainly gets her rewards for it."