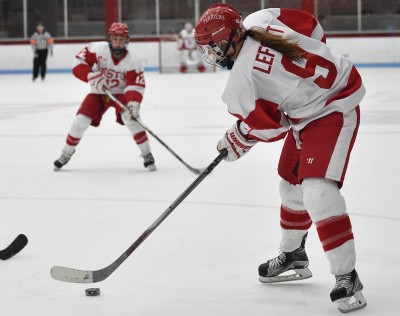 Senior wing Sarah Lefort has surpassed former teammate Marie-Philip Poulin for the most career points in Boston University women's hockey program history.
Playing against the University of Vermont in a Hockey East quarterfinal game, Lefort recorded a first-period assist and second-period goal to give her 183 career points.
After the Terriers' (22-13-2, 17-5-2 Hockey East) win over Vermont (9-25-3, 6-15-3 Patriot League), Lefort had some humble words to say about setting a new program record.
"It feels pretty great," she said, "but obviously I wouldn't be here without all my teammates helping me along the way these last four years. Just being up there with those top names is an honor. But honestly, it's all the hard work that my teammates put in to help me get there."
After receiving a pass from sophomore linemate Victoria Bach on a first-period power play, Lefort launched a wrist shot from the slot. The rebound caromed to senior captain Kayla Tutino, who housed the puck for BU's first goal of the game. The assist was Lefort's 91st of her career.
"It was pretty great," she said. "I think we were just so focused on the game, focused on getting that first point up on the scoreboard for us today. Obviously, just put the puck to the net and Kayla was a nice screen and then finished on that rebound."
Lefort got her program-leading 92nd career goal in the second period when Bach presented her with a grade-A opportunity in the front of the net. It was the power forward's 13th tally of the season.
Lefort is part of a senior class which has led BU to three consecutive Hockey East titles and NCAA Tournament appearances.
"It's definitely a lot of fun playing with her," Tutino said of her classmate. "She's a really big competitor and a really good scorer. She's got a good shot, and I've played with her quite a bit here at BU. It's been really a pleasure and an honor. It's been a fun ride and, again, today she got a good puck on net and made it feasible for me to get the rebound. It's great working with her."
As a sophomore during the 2013-14 campaign, Lefort led the NCAA with 32 goals and was named the program's first Patty Kazmaier Memorial Award finalist, a Second Team All-American and the unanimous Hockey East Player of the Year.
As a freshman in 2012-2013, the Ormstown, Quebec native's All-Rookie Team season helped BU to a national title appearance against the University of Minnesota. She scored a goal in the Terriers' 6-3 title loss.
Lefort represented Team Canada at the Four Nations Cup earlier this season and at the 2012 IIHF World Women's U18 Championship, where she won a gold medal. Lefort was also selected eighth overall in the inaugural draft of the National Women's Hockey League to the Buffalo Beauts.
BU head coach Brian Durocher had nothing but praise for Lefort following Sunday's tilt. In particular, he said she deserves recognition beyond her reputation as a goal-scorer.
"Sarah's done a great job," Durocher said. "And the first thing that comes to everybody's mind is her goal-scoring, but she's also been a great playmaker. She's left a great mark here, scoring-wise. And she's been there as a leader too. She's a kid who wears her energy and wears her conviction on her sleeve, and sometimes it leads to trips to the penalty box.
"But we know that she's always going to be there," he added. "She's always going to compete like crazy, and she's left a great benchmark for Boston University hockey."