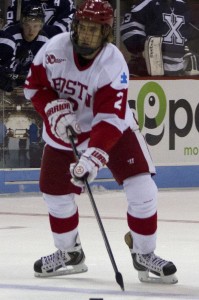 While there were many positive takeaways from the Boston University men's hockey team's 12-1 exhibition victory over St. Thomas University Saturday, head coach David Quinn is not resting on his team's laurels.
The Terriers' first real test is set for Friday, as BU will make the trek over to the Mullins Center to take on the University of Massachusetts-Amherst in its 2014-15 season opener.
BU easily dispatched St. Thomas Saturday at Agganis Arena, compiling 52 shots and capitalizing on three power-play goals against the Tommies. Even though the Terriers remained in firm control of the game throughout with puck possession pressure in St. Thomas' zone, Quinn said the team still has many things to fine-tune in its game.
"Obviously, defensively, there's a couple things that we need to clean up," he said. "We talked about it, and we addressed it this week in practice. But again, it's still week one, so there's going to be some parts of our game where we're going to have to continue to work on throughout the season and get better at and that will be one area, because of the youth on our blue line, it's probably an area where we're going to have to continually work on and be conscious of."
One of the biggest takeaways from Saturday's game was the positive results generated from the Terriers' first line of freshman forward Jack Eichel, junior forward Ahti Oksanen and senior forward Evan Rodrigues. The trio combined for nine points, with Oksanen scoring four goals in the rout.
"Obviously, the Ahti and Eichel and Rodrigues line was really good…I liked all of the lines, really, but obviously, what's going to jump out at you is the chemistry between Jack Eichel and Ahti Oksanen," Quinn said. "Again, one game, you don't want to draw too many conclusions from it, but it's certainly gotten off to a good start."
While Saturday was Oksanen's first career start at forward with the Terriers, the longtime defenseman's impressive debut with Eichel and Rodrigues has given Quinn enough of a sample size to state that the Kirkkonummi, Finland native's tenure as a defenseman has all but come to an end.
"He is 100 percent a left wing," Quinn said. "In case something drastic happens during the game with injuries and I need to put a forward back on defense, he might be a candidate. He is a forward."
Going into its first regular-season tilt, BU will welcome the return of multiple impact players who were sidelined against the Tommies. Quinn stated that junior forwards Danny O'Regan and Matt Lane have been cleared to play against UMass, and added that sophomore defenseman Doyle Somerby is also likely to return to game action.
The only player who will be sidelined in the season opener is junior forward Mike Moran, who was injured after baring the brunt of a big hit against St. Thomas.
While the Terriers will get a big boost thanks to the return of multiple injured players, BU also strengthened its blueline depth with the Monday announcement that redshirt junior defenseman J.D. Carrabino has rejoined the team.
Carrabino, who was listed on BU's 2013-14 roster but did not play any games due to NCAA transfer rules, last suited up for Clarkson University in three games during the 2012-13 season.
"J.D. is a guy that we all love, and we had a need for another defenseman, just the way things had evolved over the last few weeks," Quinn said. "He stayed in shape, and he and I have been in contact, and it was an opportunity that we needed a defenseman and he was ready to go, so we added him. It's good to have him back."
The Minutemen will be looking to bounce back from a disappointing 8-22-4 campaign that saw the team finish 10th in Hockey East in scoring at 2.24 goals per game while also placing 10th in goals allowed per game with a mark of 3.12.
UMass boasted an effective power-play unit last season, capitalizing on 33 of 150 chances on the man advantage (22 percent) — good for second in the conference.
While the loss of forwards Conor Sheary and Michael Pereira to graduation will put a dent in UMass' special teams performance, Quinn still expects the Minutemen to challenge the Terriers out on the ice.
"They pressure everywhere. They're an aggressive team. They play on that big sheet, so they try to utilize their speed and put you under pressure, which we didn't see a lot of the other night," he said. "It's going to be a different type of game for us, and I'm going to be interested to see how our defensemen handle the pressure that they're going to throw at us."
Playing in front of a loud and boisterous Mullins Center crowd will prove to be a daunting task for the Terriers, but Quinn acknowledged that his team is ready to kick off the 2014-15 campaign.
"It's always been a tough place to play," Quinn said. "We're anticipating it will be a sellout and they'll all be gunning for us, like most teams are, so I know our guys are chomping at the bit to get out there and get the season underway."