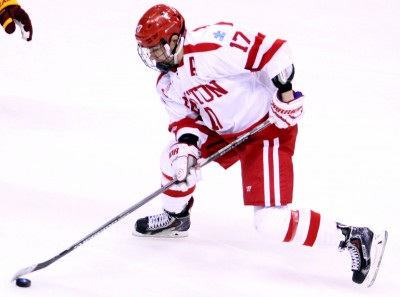 Boston University senior assistant captain Evan Rodrigues has signed a two-year, entry-level contract with the Buffalo Sabres, the team officially announced Wednesday.
Sources confirmed with The Daily Free Press Tuesday night that Rodrigues would sign with the Sabres. According to Rodrigues' agent, Brian Bartlett, Rodrigues entertained offers from multiple teams before eventually signing with Buffalo.
In a phone interview, Rodrigues said that he intends on staying at BU and earning his degree before beginning to train this summer in anticipation for next season.
For Rodrigues, getting the opportunity to sign with an NHL franchise stands as a fitting conclusion after years of hard work on the ice.
"I'm pretty excited," Rodrigues said. "Obviously it's a big dream of mine growing up, and to have it come true is obviously … it's something I've had in the back of my head since I was a young boy, and now I'm finally at this point, it's an incredible feeling."
Heading to upstate New York will have its perks for Rodrigues. If he eventually makes it on Buffalo's roster, he will play just under 90 minutes away from his hometown of Etobicoke, Ontario.
"I'm sure it's a happy thing for my parents to see, and it's obviously closer than being on the West Coast," Rodrigues said. "It's definitely something that I'm sure my family will be happy about."
In four years with the scarlet and white, Rodrigues tallied 121 points, helping BU clinch a Beanpot title, a Hockey East Championship and an appearance in the national title game during his senior campaign.
A skilled two-way forward who was able to impact the game in multiple facets, Rodrigues often drew praise from his coach, David Quinn, who lauded his ability to make his presence felt both on and off the score sheet.
"I've seen it ever since I got to BU," Quinn said on Feb. 7. "He's just an incredibly smart player, works hard, competes, has a great skill set and he can skate. Other than that, he can't really do too much."
"He's made so many clutch plays, might be our best penalty killer," Quinn told The Boston Globe on April 9. "And he's the most intelligent college hockey player I've ever seen."
The 5-foot-11 winger was a constant presence on BU's top-six forward corps in 2014-15, forming one of the deadliest first-line units in the nation along with freshman center Jack Eichel and junior forward Danny O'Regan.
After making the jump up to the BU first line on Jan. 9 during a game against the University of Wisconsin, Rodrigues led all Division I players with points after the holiday break, notching 45 points (16 goals, 29 assists) over his last 25 games.
Rodrigues finished his final season on Commonwealth Avenue with 61 points, the most by a BU senior since Jay Pandolfo recorded 67 during the 1995-96 season.
While Rodrigues was not able to come away with a national championship this season, he acquired a fair share of hardware along the way, earning Most Outstanding Player (NCAA Northeast Regional), All-Regional Team, Hockey East Second Team All-Star and Hockey East Player of the Month (January) accolades in 2014-15.
Rodrigues was also handed the John B. Simpson Award — given to BU student athletes who best display enthusiasm and leadership — on April 17.
Despite his numerous accomplishments in 2014-15, some have noted that Rodrigues was snubbed in some regards during award season, as he was not named a Hockey East First Team All-Star, despite finishing second in the country in points.
"It's definitely a nice feeling to see him get his credit where credit was due," said BU junior captain Matt Grzelcyk. "I thought he came up a little short on a couple of things, couple of awards this year, personally.
"Maybe I'm a little bit biased — but second-leading point getter in the nation — he probably deserves a little bit more than he got, so I'm definitely happy for him, not surprised at all."
Despite his gaudy numbers this past season, Rodrigues was not dormant over his first three years at Agganis Arena, receiving Hockey East Second Team All-Star honors after leading the team in plus-minus (plus-15) and finished tied for third in points (34) during his sophomore season in 2012-13.
In an intriguing twist, Rodrigues' decision to ink a contract with Buffalo comes just days after the Sabres secured the second overall pick in the 2015 NHL Draft — for which it has been widely speculated that the team will use to then draft Eichel.
Rodrigues' signing was initially reported by WEEI.com's Scott McLaughlin.