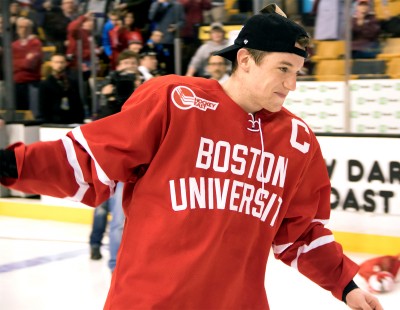 When Boston University men's hockey team junior captain Matt Grzelcyk announced during the team's annual banquet that he intended to return for the 2015-16 season, it appeared that the motivating factors in his decision were easy to map out.
After all, less than a week before he made his return official, Grzelcyk and the Terriers bore the brunt of a crushing loss to Providence College in the NCAA title game, coming up one game short in what was a miraculous turnaround season for BU.
Clamoring for one last championship run would seem to be more than enough motivation for any player to make the call to return to school for another season, but Grzelcyk — speaking with The Daily Free Press outside of the team's training facilities at Agganis Arena — said that such a scenario wasn't the case.
"I mean, obviously it's your goal, coming into each and every season," he said when asked if winning a championship was the top factor in his return. "I wouldn't say it's my exact reason for coming back, but it definitely adds a little fuel to the fire coming back for next season."
For the All-American defenseman, opting to return to Commonwealth Avenue amounted to more than just chasing a national title that eluded the Terriers this season. It's rooted a bit deeper than that.
After missing the second half of the 2013-14 season due to a severe shoulder injury, a recuperated and reenergized Grzelcyk helped lead a Terrier squad that orchestrated an 18-win improvement this past 2014-15 campaign.
Grzelcyk was an immense presence on the blue line, notching 38 points — the third-highest total for a BU defenseman over the last 20 years — while leading all Division I defensemen with a plus-32 rating.
Blocking 50 shots in the process, the Charlestown native also anchored a defense that ranked 15th in the country at 2.32 goals allowed per game.
For his efforts this season, Grzelcyk garnered multiple accolades, including Hockey East First Team All-Star, Hockey East All-Tournament Team and Beanpot MVP honors.
Grzelcyk earned a CCM Hockey All-American nod along with freshman center Jack Eichel, making them the first BU duo to earn the titles in the same season since defenseman Matt Gilroy and forward Colin Wilson received the distinction in 2009.
While Grzelcyk racked up both points and awards out on the ice, the decision regarding his future with the Terriers loomed large. Drafted in the third round (85th overall) of the 2012 NHL Draft by his hometown Boston Bruins, Grzelcyk was going to have to decide if he was going to trade in his scarlet-and-white sweater for one of the black-and-gold variety.
While his pending future with BU could have been a lingering saga throughout this season, Grzelcyk acknowledged that all talks regarding a potential departure were staved off until after the 2014-15 season came to a close.
"That's something that I talked about with my family, my family advisors … [I] didn't want to bring it up during the year or anything," Grzelcyk said. "I just felt like we had a lot to accomplish this year and didn't want that to affect anything. I think it was something that was brought up at the end of the season, that's it."
When it came time to make his decision, Grzelcyk leaned on his family, who encouraged him to prioritize completing his advertising degree in BU's College of Communication.
"One of the reasons why I came to BU is to get my degree, and my family has always valued education highly, so I think they were definitely pushing for me to stay for the four years," he said.
Grzelcyk, who was forced to accelerate a year in high school, was also frank about the fact that getting the opportunity to experience life as a senior with his teammates served as another key component in his verdict.
"I wasn't actually a senior," Grzelcyk said when reflecting on his time in high school. "I think that's something that I always dreamed about. Just having the opportunity to be a senior on campus and enjoying it with some of my best friends, is probably why I came back."
With the offseason now in full swing, Grzelcyk has set aside time to both reflect on the past season and prep himself for his final foray in front of the Terrier faithful.
When asked what serves as his primary takeaway from the 2014-15 season, Grzelcyk noted that the amount of maturity and dedication present throughout the roster was always a reassuring sight both on the ice and in the training room.
"I think we obviously came a long way from the year before," he said. "Like it's been stated all year, with the group of guys we had coming back, we were pretty confident in our ability to come back from last season and adding to the freshman class was huge. I think just having those guys at the rink every day, working hard, was a big key to our success [this] season."
Looking ahead to next year, Grzelcyk is currently set to receive some assistance in terms of leadership from a trio of teammates, as Eichel, junior winger Danny O'Regan and junior center Matt Lane were all named assistant captains for next season. While all three are currently in line to receive the "A" on their sweaters next year, Grzelcyk doesn't expect much to change in the way that all three carry themselves in the coming campaign.
"Being a junior captain this year, we had to rely heavily on everyone to step up as the year went, and I think all three of those guys did a great job in the locker room," Grzelcyk said. "I think they understand that they don't have to change much with their actions or anything like that. They're guys who hold their teammates accountable and work hard on and off the ice, so I think they're definitely great role models to have."
Boasting both a large returning class and a talented influx of promising freshmen, expectations will be high for the 2015-16 Terriers, especially in wake of the 2014-15 squad's NCAA championship push.
He might not be willing to put a number down in terms of wins, but Grzelcyk made it clear that October can't come soon enough.
"Any time you come into a season, you always have high expectations," Grzelcyk said. "I'm not going to say how many games I think we can win or anything like that. Since I've come to BU, it seems like we bring in a big class each and every year, so it's nice to kind of have a lot of guys coming back and rely on that depth going forward."