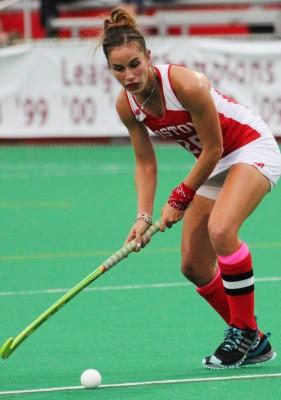 The Boston University field hockey team finished the weekend with two wins in three days, successfully beating American University 3-1 on Friday afternoon before besting No. 9 University of Virginia 2-1 Sunday at New Balance Field.
The Terriers (10-7, 4-1 Patriot League ) played an impressive game against the Eagles (8-7, 3-2 Patriot League ) in their second-to-last Patriot League contest of the season. In the first half, sophomore midfielder Hester van der Laan opened the scoring with a goal off of a 2-on-1 chance in the sixth minute of play.
Sophomore forward Amanda Cassera made it a 2-0 game after converting a deflection on a pass from sophomore midfielder Ellie Landsman in the 29th minute. The goal would be Cassera's Patriot League-leading ninth of the season.
After a goal in the 44th minute from American freshman Leah DiGiandomenico , junior fullback Rachel Coll scored the game-winner on a penalty corner opportunity in the 54th minute.
"It's a big weekend for us. A huge win on the road against a really good American team, and we're just playing good hockey right now," said BU Coach Sally Starr. "We're competing, we're up on the front of our feet, we're playing aggressively, and we're defending and attacking well."
On Sunday, the Terriers prevailed over the Cavaliers (12-7), boasting both a dominant offense and an intimidating defense. Junior midfielder/forward Sofi Laurito scored both of the goals for BU, which occurred in the 21st minute and 32nd minute of the first half. Laurito's second goal came off of a penalty corner opportunity, and was assisted by Coll and sophomore forward Taylor Blood . The goal was Laurito's fifth of the season, who is now tied for third in goals scored for the Terriers.
On the defensive end, BU only allowed the Cavaliers one shot in the first half. Senior goalkeeper Valentina Cerda Eimbcke made four saves throughout the game, but was denied a shutout after the Cavaliers capitalized on a corner opportunity in the last minute of the game.
"[Virginia] is an explosive team. They're ACC regular-season champions, and to beat an ACC regular season champion late in the year like this, it's awesome, especially for this young team," Starr said. "I'm really proud of the progress we've had and the growth we've had. We're playing our best hockey now, and we've just got to stay hungry and keep working hard and get better and better. This is what we know we can do, and let's build on it."
"It's a big confidence builder, that what we're doing is working. "I think right now, it's just about building fundamentals and working hard. We're two weeks out from our conference tournament and we want to use this as momentum."