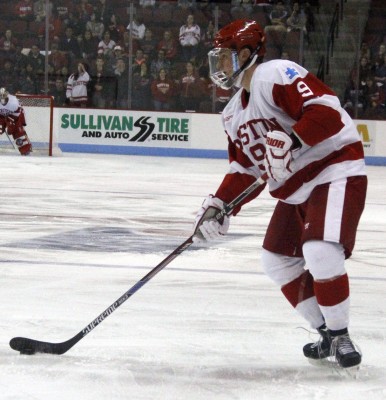 Having lost two out of its past three contests, the No. 3 Boston University men's hockey team will be put to the test in a home-and-home series this weekend against a ranked and rising conference foe in No. 18 Merrimack College team.
"These are very important league games," said BU coach David Quinn. "We've obviously got off to a good start within the league, and after this weekend, we're pretty much halfway through the league schedule, so we've got to be ready to go tomorrow night."
But those two teams that Quinn's squad just played proved difficult foes for the Terriers (9-3-1, 6-1-1 Hockey East). BU trailed 2-1 going into the third period of Saturday night's game against a physical No. 13 Colgate University team. Ignited by freshman forward Jack Eichel's tally at the 16-second mark of the final frame, the Terriers scored four unanswered goals to complete a 5-2 win.
It was Eichel's eighth goal of the season and closing strike of an impressive month. His 13 points in nine games in November earned him Hockey East Player of the Month honors. This followed an October in which the freshman was tabbed as Hockey East Rookie of the Month.
Quinn said he is far from shocked by all the accolades the highly touted freshman has received.
"I know his work ethic. I know the linemates he has," Quinn said. "You add all those up. You get to have the start that Jack has had, so I'm not surprised."
The following day against Dartmouth College, another slow start beleaguered the Terriers. Despite 34 saves from freshman goaltender Connor LaCouvee, a BU team that has thrived on third-period comebacks this season could not muster a single goal in a 2-0 loss. It was the first time this team had been shut out this season.
Playing on back-to-back days against stronger teams posed a problem by the end of the latter game in Quinn's mind.
"At this level, it's so much about matchups — what the other team's lineup is made of, how old they are — and the last two teams we played, Colgate and Dartmouth, are just bigger, older, stronger guys," Quinn said. "When you go back-to-back, it's showing on Sunday.
"Still, I loved how we came back and battled in the third, and we had a chance to make it 2-1, and I really felt that if we made it 2-1, it might have been a different outcome."
For the Terriers to have that better outcome this weekend, the team will look for the offense to get back on track, and that all begins with the first line. Not only were the Terriers held goalless against Dartmouth (4-3-1), but it was also the only time this season that the first unit was kept off the scoresheet.
Getting back on track will not be an easy task against the resurgent Warriors (10-4-1, 4-3 Hockey East). The team has already bested its eight-win total from last year thanks in part to a defense that has allowed the third-fewest goals per game (1.80) in Hockey East. Merrimack has even been stronger at home ice, as the team has given up just nine goals in eight games at Lawler Arena.
Netminder Rasmus Tirronen has paced Merrimack in the crease, posting a 1.78 goals-against average and a .925 save percentage. His seven wins are tied for the second-most in the conference.
Part of the Warriors' turnaround has also been the play from two underclassmen, forwards Brett Seney and Hampus Gustafsson. Playing in his first year at the collegiate level, Seney leads the Warriors with nine assists and 14 points. For his part, Gustafsson has 13 points — three more than he had all of last year.
Quinn said it will be essential for the team to come out strong from the get-go on the road Friday night in an environment where the Warriors are 7-1 thus far.
"I know they're a team that plays very well at home," Quinn said. "They got a great freshman. They're big and strong. They got a great goalie, and it's going to be a lively, lively building. As we do from everybody, we're going to get their best and we've got to be ready to go."