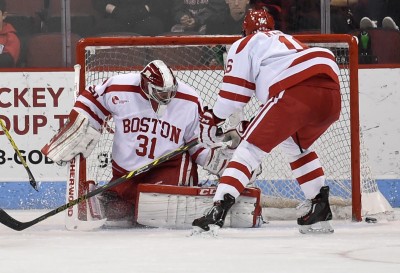 An early exit from the Hockey East Tournament might not initially seem like the ideal recipe for success as the Boston University men's hockey team readies for its NCAA Tournament opener against the University of Denver.
But in hindsight, players and coaches alike said it gave BU (21-12-5) some time to reflect on what it did wrong during consecutive losses at the University of Massachusetts Lowell. And more practice time also meant the team could fine tune different aspects before heading into a win-or-go-home situation.
Because, as members of last year's team have said, a mistake here or a missed assignment there can make all the difference in becoming a national champion or finishing just short.
The goal this time is to make sure those miscues don't happen, and that BU can skate off with a title to show for its efforts.
And according to BU head coach David Quinn, after seeing his team prepare for its first-round matchup in the West Regional with Denver, that's more than possible.
"I don't know if I've felt this good about our team in a long, long time," Quinn said Wednesday afternoon. "I'm really proud of our seniors and the way they've kind of taken ownership of the last two weeks. Obviously, the last game that we played wasn't a great night for us in a lot of ways. But we seem to have moved passed it. We seem to have put our focus on each practice and get better every day."
The Terriers get the chance to truly move past their conference tournament quarterfinal loss when they take on the Pioneers (23-9-6) as the No. 3 seed in the regional semifinal Saturday at the Xcel Energy Center in St. Paul, Minnesota.
The game represents BU's 34th trip to the NCAA Tournament and first contest in Minnesota since 2012. It will also be the Terriers' fifth time meeting Denver in the NCAA Tournament, but their first since 1997.
Denver comes into the tourney in a similar fashion as BU, having lost in the NCHC semifinals to St. Cloud State University, the top seed in the West Regional. However, the Pioneers were slotted slightly higher in PairWise Rankings than BU, which earned them the No. 2 seed in the region.
Senior forward Ahti Oksanen, who scored twice, including the game-winner, during BU's 5-4 overtime victory over Denver on Oct. 31, 2015, said the last couple of practices were about getting back to the basics, most notably on defense.
"Especially defensive zone and defensive coverage, we didn't defend nearly as well as we could against UMass Lowell," Oksanen said. "That's the main thing we focused on the whole last week."
Tight defensive coverage will be all the more important against the Pioneers, a team that averages 3.13 goals per game, just behind BU's 3.20.
Though no Denver skater has reached the 20-goal plateau yet, the Pioneers boast a balanced scoring attack, with eight players entering the tournament with at least 15 points. Freshman Dylan Gambrell (43 points), junior Trevor Moore (42 points) and sophomore Danton Heinen (42 points) have led the way as the team's top scorers.
Despite giving up four goals the last time the two teams met, BU did effectively keep Denver's top scorers in check, though Gambrell had one assist.
Goaltending-wise, both teams are close to being even as well, as Denver goaltender Tanner Jaillet's .925 save percentage is just a tick higher than BU senior Sean Maguire's .924 mark.
BU, having given up eight goals in its last two games, had one of its poorest defensive weekends all season in front of Maguire. Quinn said now is the time for BU to defend with a more a physical element, but at the same time, remain responsible in the defensive zone so the responsibility doesn't fall solely on its goaltender.
"In order to defend great players, you have to make sure that you're committed to the body," Quinn said. "And that doesn't mean be overly physical and try to go out of your way to take yourself out of the play to play through people. It's when you have the opportunity to play through them, you have to be 100 percent committed to have your stick down and your head up and playing through them."
As for the meeting the two teams had in October, Quinn said it might only help a slight bit in preparations, considering the fact both teams have won at least 18 games since then. When it comes down to who makes it onto the regional final, and possibly the Frozen Four, Quinn said it's all about which team puts in the extra effort.
"I know they're a better team [since then]," Quinn said. " They're a well-coached team, so I know they're a much better team in March than they were in October. And I hope we are too. At the end of the day, it's about who's willing to win their one-on-one battles, who's ready to play and who's ready to be alert."