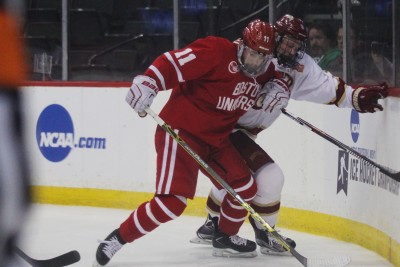 ST. PAUL, Minnesota — The last seconds of the game meant virtually nothing in the final decision for the Boston University men's hockey team, but senior forward Mike Moran skated hard to the net to try and make something happen.
Down by six goals with under 20 seconds to play, a goal, even two, would not get BU to the next game of the NCAA Tournament.
But still, in those waning ticks of the clock, Moran looked to create a play for the Terriers. Camped in front of University of Denver goaltender Tanner Jaillet with 14.7 seconds left to play, he did just that, redirecting a pass from senior assistant captain Matt Grzelyck into the back of the net for BU's (21-13-5) second goal in a 7-2 defeat to Denver (24-9-6) at the Xcel Energy Center.
Cutting the lead from six goals to five, by the time the goal was scored, was just mere bookkeeping for most. But Moran's classmate, assistant captain Matt Lane, said after the game that the Terriers could have trailed by even more, but the tally would never just be a simple statistic for Moran.
As Lane skated over to Moran after the goal and put his hand on Moran's scarlet helmet, Lane realized the goal was emblematic of the way his teammate had played during his four years with BU.
"I just kind of put my hand on his head after he got it," Lane said after the season-ending loss. "I couldn't be happier for him. Guys like him play until the finish no matter what the score is — that's the way you gotta do it."
By his own admission, Moran is not the best skater in the world. Nor is he the most skilled. He'll never be the team leader in points or goals, which he never came close to doing in his four years on Commonwealth Avenue.
Yet Moran's work ethic and ability to grind it out, even during the end of a blowout loss like this one, is something that will never be questioned years down the road when he's just a small part of the program's history.
"From freshman year even to coming here, I was just excited to be here," Moran said. "For 60 minutes, I've always been taught to play to the final buzzer. And that's what I was trying to do. And today was kind've of an unlucky day. Denver was the better team. Just tried to play hard every shift. Really great pass by Matt, so just tried to finish for him."
For the fifth time this season, and 15th time in his career with BU, Moran finished that play with a goal. The fourth-line center hasn't scored much in a Terrier uniform, but he's unquestionably scored some important and timely ones, like the breakaway goal in the 2015 Beanpot championship or the third-period tying goal against at Boston College on Nov. 7, 2014.
Those scores might have played an important role in some of the Terriers' crucial victories the last two seasons, yet Moran, who grew up watching BU games at Walter Brown Arena as an infant, said his experience at the school will be more defined by the memories he made and the players he played alongside.
"I mean it's the world. I grew up watching BU, coming to games since I was a week old. I mean this is a tough one to swallow," Moran said. "But I'm going to look back, BU's a huge family and I've learned that there's much more after hockey, the way I've seen the much older guys that have come through the program.
"If you played at BU you're part of the team and part of the family. It means a lot."
With the team skating off for the last time this season, Moran, leaving the playing surface for one final time in his career, hung back behind his team and was the last skater off the ice.
Much like his time playing, he wasn't first to jump the boards, but he'd make sure that he hung around until the very end.
"Just that I gave it my all, every game, every practice," Moran said on what he hopes his lasting impact will be. "That's all I could ask for. Like, [senior wing] Ahti [Oksanen] said, it was a hell of a ride, I just hope I was one of those guys that gave it my all every shift.
"I wasn't the fastest or the most skilled guy, but just tried to give it my all every shift."