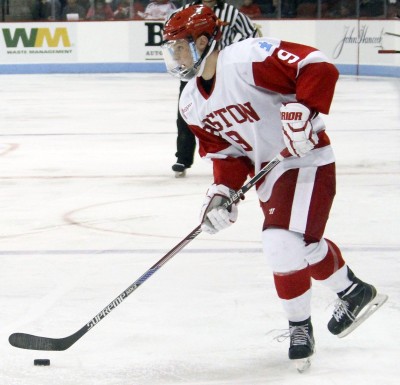 Although play against conference opponents for the first half of the season has concluded, the No. 2 Boston University men's hockey team still has one more regular-season game to play before it reaches winter recess.
The Terriers (10-3-2, 7-1-2 Hockey East) will travel to upstate New York this Saturday to play Rensselaer Polytechnic Institute for a non-conference battle. Though the opponent is from outside of Hockey East, BU coach David Quinn said this Eastern Collegiate Athletic Conference foe will prove to be a challenge for BU. After all, two of BU's three losses this year have been at the hands of teams in that conference.
"Obviously, the first half is not over yet, and hopefully they understand the importance of our next game," Quinn said. "Every game we've been in has been a battle, no matter what the opponent. RPI I know is a little bit beat up, but they beat us last year, and they've had some success against us recently. So we need to put ourselves in position to win a hockey game, the way we did on Saturday."
In that Saturday game Quinn, the Terriers got back on track after dropping two spots in the national rankings earlier in the week. BU tied Merrimack College in the first game of the home-and-home series Friday, but controlled the matchup from start to finish in the latter contest against the Warriors (10-5-2, 4-4-1 Hockey East). More importantly, the first line — which had failed to get on the scoresheet in two consecutive games — had its names all over the page last Saturday.
Junior winger Danny O'Regan's hat trick and assist powered the way for the Terriers in the 4-2 victory. Freshman center Jack Eichel's four assists also proved crucial, while junior forward Ahti Oksanen contributed with one helper.
Passing the puck through the offensive zone has been key for the first line all season, and Quinn said that's what the unit did effectively against Merrimack.
"One of the things they [the first line] did, they created space for each other by moving the puck and not allowing people to defend them," Quinn said. "I thought our D did a good moving the puck as well. They could've had more than the four goals they had. So could've our other lines. We were pretty thorough in a lot of areas."
The third unit consisting of junior center Matt Lane, sophomore winger Nick Roberto and freshman forward A.J. Greer has also impressed Quinn. That line registered a combined 12 shots on net and one goal — scored by Lane — over the two games against Merrimack.
Quinn said the ability of the line to push with a consistent forecheck has kept opponents off balance.
"They're playing at a pace. They're all physical," Quinn said. "I thought Nick Roberto had a really good weekend after kind of struggling a little bit. Lane's had a great year. A.J. Greer keeps getting better and better. I really like his game over the last two weeks. All of those guys can make you uncomfortable out there, and I thought that's what they did."
While the Terriers' offense has been a strength for this year's team, that has been far from the case for RPI (6-11-1). The Engineers' 1.61 goals per game ranks second-to-last in the ECAC this season. No player has registered 10 points thus far, although forward Riley Bourbonnais has nine.
Part of the reason RPI has lost its last four games is because of these offensive inconsistencies. The Engineers scored no more than two goals in any of those games and were shut out once by the University of Michigan.
One place where the Engineers could be difficult for the Terriers, however, is on the defensive side. All but one of RPI's defensemen are at least 6 feet tall and play with a bruising, physical style. This type of defensive effort posed a problem for BU in the first game of the Merrimack series.
"They're a strong team. They're a team that obviously got off to a good start," Quinn said of RPI. "They've struggled a bit lately, but we all go through that in a season. This is their last home game before the break, so we're expecting a hard-fought game, a physical game, just like it usually is up there."
An out-of-conference game against a sub-.500 team might not look like the most important game on the schedule, but this one contest, Quinn said, could have implications for his team later this year.
"In the grand scale of things, in the national picture, these non-conference games are pivotal," Quinn said. "Games like this could be the difference between making the tournament and not … We want to put ourselves in the position with our effort and our physical play and puck movement to win the game. We may not win all of them, but you'll put in yourself in a position to win most of them, and that's what we need to do on Saturday night."
Other Notes

Quinn said sophomore center Robbie Baillargeon and freshman forward Nikolas Olsson have skated in practice but will not return to the lineup this weekend. … A victory Saturday would give BU 11 wins, one more than all of last season. … Eichel's 25 points and 1.67 points per game lead the entire NCAA.