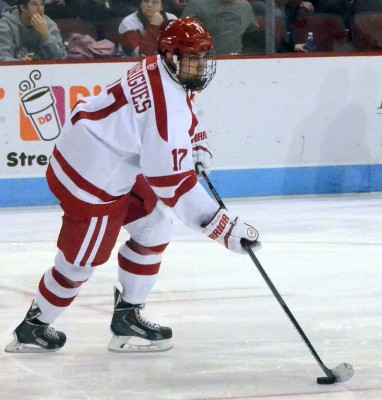 It could be easy for any team to be distracted by a lingering shot at its first Beanpot Championship since 2009. But David Quinn, head coach of the No. 2/3 Boston University men's hockey team, ensures that won't be the case as the team travels for a matchup against No. 11/12 University of Massachusetts Lowell.
"We look at it as if we have two Beanpot Finals coming up," Quinn said. "We have one Friday and one Monday. When you're playing a team that's right on your heels and is the two-time defending league champion and had all the success they've had, I don't think there's anybody that's looking past anybody."
BU (17-4-4, 11-2-2 Hockey East) is fresh off a thrilling double-overtime victory over No. 6 Harvard University in the Beanpot semifinal Tuesday. Lowell (16-8-3, 9-5-2 Hockey East) enters Friday's contest off a bit of a rough stretch that saw head coach Norm Bazin's squad drop four of its last five games.
Despite its sluggish play over the last few weeks, Lowell still possesses a potent offense that currently ranks second in Hockey East. Forward C.J. Smith leads the team in scoring with 24 points (12 goals, 12 assists), which places him second among all freshmen in the conference.
The Terriers received a tough test from Lowell in the teams' last matchup Jan. 18 as it took an overtime one-timer from BU freshman forward Jack Eichel to knock off the River Hawks, 4-3.
"[They're] a relentless, tireless team that makes you earn every inch of the ice," Quinn said. "They make you earn everything you get. They're well coached, they defend well and they just challenge you in all three zones. They're very opportunistic, so we're going to have to be at the top of our game physically and mentally and be ready … from the drop of the puck."
The River Hawks are one of the most disciplined teams in the league, with an average of just 8.2 penalty minutes per game, but they also possess the third-worst penalty kill in Hockey East, at 76.7 percent.
That area is a significant one that the Terriers could exploit — BU is tied with the University of Minnesota for the best power play in the nation, at 26.32 percent.
One of the key contributors on that power play, and the rest of the offense, for that matter, is senior assistant captain Evan Rodrigues. Rodrigues was named Hockey East Player of the Month for January on Thursday after recording 18 points (four goals, 14 assists) throughout the month.
"It's long overdue, well-deserved," Quinn said about the award. "He's been outstanding in all areas — five-on-five, four-on-four, power play, penalty kill — he's a complete player, and we're going to lean on him heavily, that's for sure."
Rodrigues is on a 10-game point streak, with 23 points in that span. He has recorded the game-winning goal or assist in each of BU's past five games.
BU sits atop the Hockey East standings with a four-point lead over No. 11/12 Boston College and Lowell, who are tied for second place. A win for BU would give them more breathing room in the regular-season standings, but a win for Lowell would bring the River Hawks within a one-win margin.
"We certainly understand that we're stepping into an environment that will probably be the best environment that we've seen all year," Quinn said. "When you're this deep into the season and you're in first place, everyone is gunning for you, but they're certainly a team that everybody is gunning for as well because of the success they've had.
"We certainly understand the challenge we face. We've answered a lot of challenges this year, and we're going to have to answer a big one on Friday."