Boston University men's hockey junior goaltender Matt O'Connor has signed a contract with the Ottawa Senators, Ottawa announced on Saturday afternoon.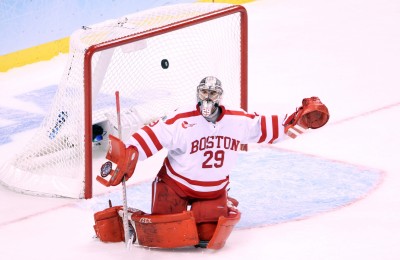 O'Connor signed an entry-level deal, worth a maximum of $925,000 over two years, per Sportsnet's Mark Spector. According to TSN's Bob McKenzie, O'Connor had four primary suitors vying for his services. He ultimately chose Ottawa over the Vancouver Canucks, Edmonton Oilers and New York Rangers.
In three seasons with the Terriers, O'Connor compiled a record of 40-21-10 while posting a career goals-against average of 2.55 and a save percentage of .921.
After splitting time with fellow netminder Sean Maguire over his first two years on Commonwealth Avenue, O'Connor took over as the Terriers' top option in net during the 2014-15 season after Maguire was forced to take a medical redshirt.
The Toronto native thrived during his junior year, leading the team with a 2.18 GAA and a .927 save percentage while pacing all Hockey East goalies in win percentage with a 25-4-4 record.
For his efforts, O'Connor was named a Hockey East Second Team All-Star and was given a spot on the Hockey East All-Tournament Team, helping the Terriers win both a Beanpot and a conference title for the first time in six years.
"You have college sports for people like Matt O'Connor," said BU coach David Quinn following BU's 4-3 loss to Providence College in the national championship game on April 11. "Great athlete. Great student. Everybody here, if you spent ten minutes with him, he acts like he's 35 years old. He's exactly what you want in a student athlete.
"And we wouldn't be here without him. We've won championship after championship this year. The least amount of losses in the country," he added. "You don't do that with just average or just good goaltending."
Even before his standout junior season, O'Connor was impressive in net, leading the team in both GAA and save percentage in 2013-14, while appearing in 19 games during his freshman campaign before being missing the rest of the year due to a punctured lung.