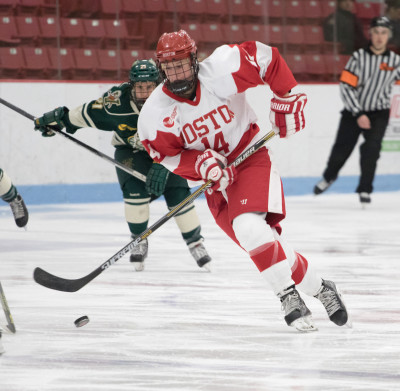 The Boston University women's hockey team begins its season this weekend with an exhibition game against the University of Guelph on Saturday afternoon.
Expectations are high for the Terriers this year, as they were picked to finish second in the Hockey East Preseason Poll and eighth in the U.S. College Hockey Online Poll for the NCAA on Monday.
The Terriers are coming off a prosperous 2014-15 season, as they won their fourth straight Hockey East championship behind the leadership of seniors Marie-Philip Poulin on offense and Shannon Doyle on defense.
As such, BU will have big shoes to fill this season, but under new captain and senior forward Kayla Tutino and assistant captains and senior forwards Sarah Lefort and Dakota Woodworth, BU head coach Brian Durocher said he is confident that the team will step up to the plate.
"There's experience, there's some high-end talent in the Leforts, Tutinos, [sophomore forward Victoria] Bachs and [sophomore forward Rebecca] Leslies," Durocher said in a media teleconference on Wednesday. "And then I like the fact that our second and third lines are still going to be made up of predominantly juniors and seniors, [junior forward] Sam Sutherland, [junior forward] Maddie Elia, [senior forward] Rebecca Russo, [senior forward] Jordan Juron and Dakota Woodworth. It's an experienced group and it's a talented group."
Generating as many goals as the Terriers did last year will be difficult without the offensive production coming from Poulin, as she was the team leader in both points (54) and goals (27) by the end of the season.
However, Lefort and Tutino followed closely behind Poulin in terms of production, as did Bach and Leslie. Durocher said he hopes the upperclassmen can take the offensive reins, similarly to how they stepped up last year.
"Two years ago, when [Poulin] was gone with the Olympics, our team had a pretty similar flavor," Durocher said. "All these kids were younger kids and Louise Warren had a fantastic year. … To know that [we have] Elia, Sutherland, Russo, Juron, Woodworth, Lefort, Tutino, Bach [and] Leslie, there's a real good core of kids who have played a lot of college hockey and have had successful years."
BU faced the challenge this past season of choosing between two talented goaltenders in current sophomore Erin O'Neil and junior Victoria Hanson. Establishing a No. 1 goalie will also pose a difficult situation this year, as both O'Neil and Hanson are returning in net.
"As we turn our attention to this year … everyone here would like [the goaltenders] to take that step," Durocher said. "As a college player, Victoria Hanson's been here two years, but last year was really her first year playing. She did a great job in the stretch, the last five games. Erin O'Neil got her feet wet in grand fashion in that she played 15 or thereabouts games."
"They came here with good resumes, they're both talented kids," Durocher added. "I don't think they played quite to where they could play on the back end."
This season, the Terriers have added three freshmen to their roster, along with sophomore goaltender Ashlyn Aiello and junior defenseman Alexis Crossley, who will play her first season with BU after sitting out last year due to Hockey East transfer rules.
According to Durocher, Crossley, formerly of the University of New Hampshire, will bring additional talent to the Terriers' power play.
"It's something you don't have happen all that often," Durocher said. "To get someone who's talented, that does happen once in a while, but to get someone who's played two years of college hockey and is talented [is rare]. It's nice to know you've got an anchor there who's probably going to be your point on the power play. … It's relieving for a coach and very positive for a team."
Though losing Poulin and Doyle will prove trying for the Terriers, their depth and talent remain at an elite level. BU will retain the target on its back as it begins its quest for a fifth consecutive conference title.
Justin Pallenik contributed to the reporting of this story.