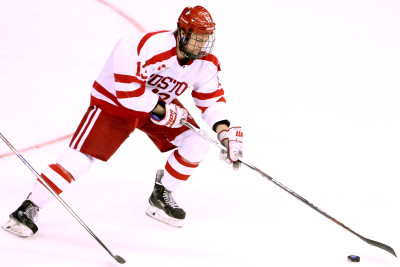 The No. 11 Boston University men's hockey team returns to league play this weekend against the University of Vermont as the first semester dwindles and a long break approaches — quickly.
"These next two games are going to be critical," said BU head coach David Quinn. "They're our last two league games before a long, long break. … I want to play hard, I want to play well. The winning or losing will take care of itself."
Vermont (3-9-2, 2-4-2 Hockey East), which visits Agganis Arena on Friday and Saturday, will be the final Hockey East opponent for BU (7-4-3, 3-2-2 Hockey East) until Jan. 9. After this weekend, the Terriers will take on two top-10 opponents in No. 10 Yale University and No. 3 Quinnipiac University on Dec. 11 and 12 before departing for winter break.
There will be crucial league points on the line against the Catamounts, and an important chance to set the right tone heading into the break.
"Whatever happens in the next two weeks," Quinn said, "We're going to have to live with for a while, because [then] we don't play for a month."
The Catamount offense has proved quiet this year, mustering an average of just 1.86 goals per game this season, second-worst in the conference.
Vermont is led in scoring by forward Mario Puskarich, who has 12 points this year. Former Terrier defenseman Alexx Privitera ranks second on the Catamounts in offense, with seven points this season, and ranks fifth in Hockey East with 25 blocked shots.
While Vermont posted one of the best defenses in the league last year — ranking second in Hockey East with just 2.22 goals allowed in 2014-15 — it currently stands at eighth-best in the conference, with the team giving up 2.86 goals per game.
Goaltender Mike Santaguida, who has seen all starting time in net for Vermont, has posted a .908 save percentage and a 2.72 goals-against average this year.
That being said, despite having nine losses on the season, six of those losses for the Catamounts have come to top-10 opponents.
"It's absolutely deceiving," Quinn said of Vermont's record. "They're fast, they get after you, they've got good players. There's such a fine line at our level between winning and losing. … We're well aware of that, I think our players are well aware of that. You've got to respect your opponent, and I know our guys respect Vermont."
BU, fresh off a tie at Madison Square Garden with No. 15 Cornell University on Nov. 28, enters the weekend with several new contributors having broken through — most notably, the Terriers' revamped third line.
Freshman forward Bobo Carpenter took over for his first start at center against Cornell (6-1-2), notching his second goal of the season.
"Bobo Carpenter looks like a completely new player in the middle," Quinn said. "That line had a lot of grit for us."
Sophomore forward Nikolas Olsson notched two assists in the contest, which was his first back from injury. His classmate, left wing A.J. Greer, also scored his first goal of the year and had an assist against the Big Red.
"I really like playing with A.J. and Bobo," Olsson said. "They bring a lot of energy, and they're both skilled guys that work really hard. They can both make plays. I feel like the line worked really well together."
With confidence in the remodeled third line, Olsson said he wouldn't analyze the upcoming weekend against Vermont any differently.
"Same as any other game," Olsson said. "I don't really change preparation too much. … Every game's another big game. There's no reason a series against Vermont isn't as big as the MSG game. We're going to come out just as hard and prepare the same way."