The first two goals the No. 11 Boston University men's hockey team scored proved to be enough. But just to be safe, the Terriers added four more in one of their more dominant offensive performances of the season.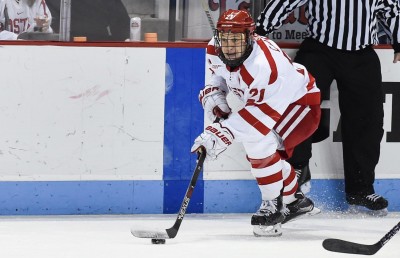 Freshman forward Bobo Carpenter and senior assistant captain Matt Lane had two goals apiece in a 6-1 win over the University of Maine on Saturday evening at Agganis Arena. Freshman forward Oskar Andrén scored the first points of his collegiate career with two assists, and senior forward Ahti Oksanen also added a pair of assists.
The win gave BU (13-7-4, 7-4-3 Hockey East) a series sweep over the Black Bears (5-15-6, 2-8-2 Hockey East). Over the two-game stretch, the Terriers totaled 11 goals, and scored at least one goal in each of the six periods over the weekend.
"Just a great weekend for us," said BU head coach David Quinn. "Anytime you get four points in this league, over a weekend, it's a great accomplishment. But our team tests your work ethic, and your physicality, and I thought for six periods we did a good job of moving our feet, playing at a pace I don't think we've been playing at lately."
"This was maybe the first weekend that we played six full periods start to finish," Lane added.
Carpenter notched his sixth goal of the season at the 5:02 mark of the first period. After his linemates won a battle along the boards, Carpenter got space between two Black Bear defenders and beat Maine goaltender Rob McGovern to give BU an initial 1-0 lead.
"They [my linemates] were definitely working hard, I was seeing that, and I was just trying to get open in the slot for them," Carpenter said. "… They did all the work, I got lucky. I got the best part and they deserve much more of the award but it was just a team effort there, it was nice work."
Just 31 seconds later, junior defenseman Doyle Somerby made it 2-0 with a wraparound goal.
Carpenter later added his second goal of the night when he tipped in a puck at the 3:43 mark of the second period. Lane then pushed the score to 4-0 when he connected off a delivery from Oksanen at 11:57. The goal sent McGovern to the bench, with junior Matt Morris replacing him in net.
Maine forward Cam Brown broke the shutout with 7:16 left in the second period, when his shot snuck past BU senior goaltender Sean Maguire to cut the score to 4-1. However, that would be the only goal Maguire allowed on the night, as he stopped the other 22 shots he faced.
While playing 4-on-4, the Terriers made it 5-1 when freshman forward Jakob Forsbacka Karlsson sent a drop pass to Somerby, whose shot turned into a rebound goal for senior assistant captain Danny O'Regan.
Lane extended BU's lead to five goals 3:54 into the third period. He finished with three points on the night, and his two goals moved him back into a tie for the team lead in goals (13) with Oksanen.
The win was BU's second sweep of the season — the first coming on Nov. 6 and 7 against Northeastern University — and it came at an opportune time, as the Terriers try to earn a top-four position in Hockey East to earn home ice for the postseason tournament. BU presently sits in fifth place.
"At this point in the season, [in] Hockey East, it's time to buckle down," Lane said. "We need sweeps, and we need to string together some wins. We know what we're capable of as a team."