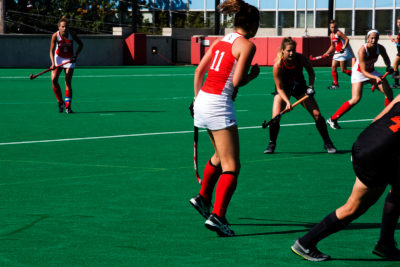 The 2017 season came to close for the Boston University field hockey team Saturday courtesy of a 3-1 defeat to the University of Connecticut in the first round of the NCAA Tournament. The Terriers finished the season at 14-8, including an undefeated Patriot League campaign.
The top-seeded Huskies (20-0) beat BU for the second time this season. Connecticut dominated the Terriers 8-1 in September, but this time around BU was certainly competitive as the match was 1-1 until late in the first half.
While BU head coach Sally Starr said she didn't think the 8-1 scoreline was reflective of how the game went in September, she still thought her team performed well.
"We are a much better team now than we were when we played them in September," Starr said. "We were a young team then who hadn't proved a whole lot. We defended really well today."
Connecticut opened the scoring just 2 minutes and 54 seconds into the game. The nation's leader in goals senior forward Charlotte Veitner was at it again, scoring her 29th goal of the season. Fellow German sophomore forward Svea Boker got her 13th assist of the season.
BU's scoring leader freshman forward Ailsa Connolly got the Terriers right back in the game just over four minutes late at the seven minute mark and junior forward Kara Enoch got the assist.
Freshman goalkeeper Millie Baker got the start for the Terriers and made four saves. Junior goalkeeper Kathleen Keegan then came in after halftime and kept BU in the game, stopping two.
Both goalkeepers turned in a commendable performance, holding the Huskies, who lead the country in goals per game at 4.75, to just three goals.
"I am really proud of our effort," Starr said. "We played a really outstanding defensive game as a team. We also created some very good scoring opportunities that we just weren't able to finish off."
The game remained tied until the latter stages of the first half when Connecticut junior forward Amanda Collins gave the Huskies their one goal lead back at the 27:39 mark. This was Collins' 11th goal of the season.
The Terriers were held without a penalty corner for the first time since a Sept. 24 defeat to Princeton. BU was able to successfully defend the Huskies four corner attempts.
Nearly 13 minutes into the second half, UConn took a two goal lead when Veitner scored her 30th goal of the season giving her 71 points. Sophomore midfielder Barbara van den Hoogen and Collins were credited with an assist each.
BU struggled to get shots on redshirt senior Nina Klein who one of the two shots she faced. The Terriers only registered three shots in total and only two on goal.
Starr said that UConn defended the Terriers well.
"I think we just had a lot of careless turnovers," Starr said. "They defended us well, but we didn't execute more so than how they were able to defend us."