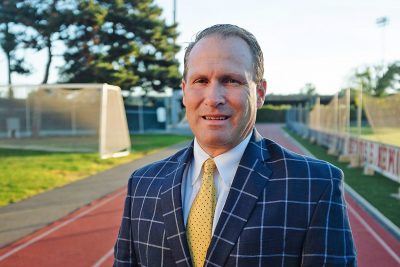 The Boston University Athletics Department named three new head coaches leading into the 2018-19 academic year, but the BU campus won't be new to them.  
Men's ice hockey coach Albie O'Connell ('99), women's basketball coach Marisa Moseley ('04), and women's lacrosse coach Lauren Morton ('08) all graduated from Boston University's College of Arts and Sciences.
O'Connell was named the 12th coach in the storied history of Terrier ice hockey and enjoyed success while on Terrier ice and behind their bench.
"When we talked to candidates about their staff composition … every candidate said, 'To succeed, I'd have to keep Albie,'" said BU Director of Athletics Drew Marrochello at a press conference. "It dawned on me somewhere during that process that we're the ones who should be keeping Albie."
O'Connell coached around the Northeast after his graduation from BU, including a three-year stint as recruiting coordinator for local rivals Northeastern University from 2008-11.
The Terriers have been in the NCAA tournament every year since O'Connell has returned.
O'Connell played 149 games for head coach Jack Parker from 1995-99. He was the captain of the squad his senior year and is the only Division I coach men's head coach who has won a regular season conference title, captured a conference tournament championship and reached the NCAA title game as both a player and coach.
During the press conference, O'Connell spoke to what it meant to continue his career as a Terrier.
"I had a great time here as a player," O'Connell said. "I learned a lot of things along the way, one of the biggest things was that you have to come to work every day and compete, and it was not always easy to make the line-up … I'm very fortunate that these guys here are giving me the opportunity to lead the program."
Moseley is the eighth head coach in the BU women's basketball history and the first alumna. Moseley dominated the paint in her stint with the Terriers from 2000-2004, finishing third all-time in blocked shots with 114.
In a press conference, Marrochello spoke of welcoming Moseley "home" while appreciating her development since her years as a player at BU.
"The more we got to know Marisa, the more the words of others rang true," Marrochello said. "She's genuine, she's caring, she's magnetic — somebody that you'd clearly want to play for."
Since her graduation, Moseley has certainly been around plenty of success as she continued her career in basketball. Beginning in 2006 with Denver University as an assistant coach and recruiting coordinator, the Pioneers won 20 or more games for the first time in six years.
Moseley then became an assistant coach at the University of Minnesota and helped the Golden Gophers to two NCAA tournament appearances in her three seasons. Finally, Moseley joined the most successful program of our generation: the University of Connecticut.
Under renowned head coach Geno Auriemma, the Huskies and Moseley won five national titles, including four straight from 2013-16. She is hoping that the success she had at her previous institutions will translate well to the Terriers.
"In life, one gets very few chances to come home again, and I am so happy that I have the opportunity to come home again to Boston University," Moseley said.
Serving as an assistant for the women's lacrosse team from 2010-12, Morton most recently was the associate head coach at Duke University. On the Blue Devils' staff since 2014, Morton aided in two NCAA tournament appearances, including one national semifinal.
Morton believes her time as an assistant and associate head coach will serve her well and she can't wait to come back to where her collegiate career began.
"I'm excited to return to BU for not only my second, but my third time," Morton said. "Words can't describe what it means to be back to a place that I love, that I understand, and that I want to represent."
As a player, Morton was team captain in her final two seasons and helped the Terriers win four straight America East titles and NCAA tournament births. Morton graduated with many BU records, including 160 goals, 144 ground balls and 92 turnovers caused. All currently rank in the top 10 among BU annals.  
"I was transformed through my experiences on and off the field here as a student athlete," Morton said. "I look forward to creating those same experiences for the women's lacrosse student athletes here."