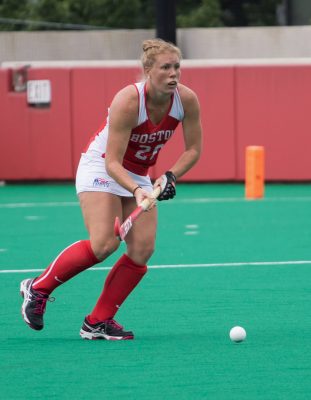 The No. 21 Boston University field hockey split a pair of games over the weekend, defeating American University Saturday 2-1 but falling to No. 6 Pennsylvania State University 4-0 a day later.
The Terriers (5-3, 1-0 Patriot League) got off to a solid start for this weekend, defeating Patriot League rivals American (3-4, 0-1 Patriot League) 2-1 during overtime Saturday afternoon while in Washington D.C.
BU head coach Sally Starr, however, said she felt the outcome was not a given.
"It was an ugly win," Starr said. "We got the outcome, but our play wasn't all there."
BU won its first Patriot League game, second overtime match and third straight overall in part thanks to sophomore Petra Hall, whose third goal of the season served as the game winner against the Eagles.
Sophomore Miya Denison redirected a shot from senior Ally Hammel off a corner and struck first for the Terriers 15 minutes into the match.
The goal was Denison's first goal of the season.
The Terriers' defense held the Eagles at bay for almost the entire match but were breached with just under three minutes remaining.
On American's third shot of the half in the 68th minute, junior Jette Dieckmann forced the game into overtime.
Senior goalkeeper Kathleen Keegan made three saves, but could not keep Dieckmann out, as she tied the match with 2:37 remaining.
Hall was able to win it for BU just over six minutes into the first overtime period.
The angle was tight for Hall, but she was able to loop one over the American goalkeeper and into the back of the net for the win.
Keegan started every game of the season for the Terriers and had nine saves through the weekend, including a career-high six saves against Penn State (5-2).
"Keegan has been phenomenal this weekend and [against the Lions], she's made some fantastic saves," Starr said. "Absolutely she's our number one right now."
BU made the brief trek to the campus of the University Of Maryland Sunday, where it met the Nittany Lions of the Big Ten conference.
The Terriers were shut out for the first time this season, falling 4-0 to Penn State after a barrage of first-half goals that saw BU down 3-0 at the half.
The Lions would then quell any thought of a BU comeback by scoring its fourth goal of the game in the 46th minute.
Sophomore Alexis Horst scored the third and fourth goals for Penn State, giving her three goals in her last two games.
Again, Starr said that the score did not reflect the team's play.
Before the team resumes conference play against Colgate University Saturday on New Balance Field, Starr emphasized the need for the team to solidify its play in the defensive third of the field.
"If American was an ugly win, then this was a good loss," Starr said. "We had some defensive errors they made us pay for, but I thought that our actual play was much stronger [against the Lions]."