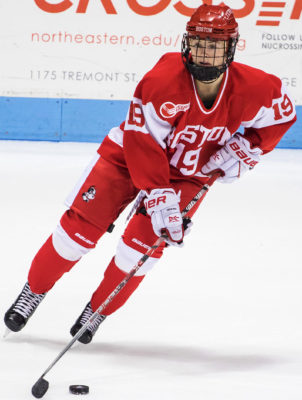 Over the weekend against the Boston University women's hockey team's crosstown foe, No. 2 Boston College, the Terriers (6-8-3, 3-6-3 Hockey East) scored four goals. Senior forward and captain Rebecca Leslie found the back of the net for three of those while senior forward Nina Rodgers tallied a goal as well.
While BU scored twice on the power play over the weekend, BC's (13-1-3, 7-0-3 Hockey East) penalty kill limited the squad on its nine other opportunities and the Terriers took home one Hockey East conference point.
The power play is just one of many things the team will need to improve on as they face Yale University and No. 8 Providence College before a three week break. BU head coach Brian Durocher said the biggest challenge will be injuries that occurred against the Eagles.
Durocher said that there's a "reasonable chance" freshman goaltender Corinne Schroeder will be back for the upcoming two games, but Rodgers, sophomore forward Deziray De Sousa and junior defenseman Connor Galway will not play.
"We're going to be down to what I think appears to be 15 skaters so you're talking three skaters under the limit and that will cause some challenges, but people will have to play maybe extended roles, more minutes so that will be thrown into the blender of the ultimate outcome," Durocher said.
The Terriers will travel to play Yale (3-7-4) on Thursday evening and will not play at their home rink of Walter Brown Arena until their series against the University of Maine on Jan. 6 and 7. BU is currently 2-2-2 in away games, leaving the results of these contests to go any way.
The Terriers will be led by senior forward and assistant captain Victoria Bach. Bach currently leads the team in points and goals with 33 and 17 respectively. She was also named National Player of the Month by the Women's Hockey Commissioners Association.
During the 2015-16 season, and the last time the Terriers saw the Bulldogs, Leslie notched two goals — including a short-handed one, in the 7-1 sweep.
This season, Yale has only seen three wins and most recently lost 3-1 to Rensselaer Polytechnic Institute.
Despite these results, freshman forward Greta Skarzynski has collected 12 points, consisting of six goals and six assists. Defensemen senior Mallory Souliotis and junior Julia Yetman are right behind her with nine and eight points respectively.
The Bulldogs' sophomore goaltender Tera Hofmann has played a majority of the team's minutes in net over freshman goaltender Gianna Meloni. While Hofmann sports a 2-4-3 record, she currently sports a .909 goal save percentage and 2.56 goals against average.
Durocher said the most important thing for his team against Yale will be playing a "sound game" on the road.
"That means you're not going offsides, you're ready on every face off, you're not taking any bad penalties," Durocher said. "You know getting off a bus for two and a half hours that complicates things a little bit so we've got to make sure we're playing a disciplined, smart game on the road."
On Saturday, BU will continue Hockey East play in its matchup against Providence (10-5-4, 7-1-2 Hockey East). The Friars are currently No. 2 in Hockey East standings with 16 points while the Terriers are No. 6 with nine points.
Providence's lone conference loss came on Nov. 3 against BC who sits No. 1 in the league with 17 points. This loss for the Friars also marked the end of its longest undefeated streak of the season at five games.
Most recently, Providence took three of four points in its home-and-home series against the University of Connecticut. Senior forwards Maureen Murphy and Blair Parent both chipped in a pair of goals each in Saturday's 4-1 win.
Murphy currently leads the Friars in goals with 12 while forwards Christina Putigna and Cassidy MacPherson are tied for the team lead in points with 17 each.
Durocher said Providence's current sophomore defensemen changed the complexity of the Friars' team for the better.
"Last year they started to build with their defensemen and they had three freshmen defensemen, for my money, who could all really shoot a puck well," Durocher said. "They had some offensive action and that really helped them generate offense from the blue line and on their breakouts."
BU is averaging 4.5 penalties per game, and Providence has seen little success on its power play and has a .203 percent conversion rate.
In comparison, the Friars are drawing 4.4 penalties per game — but have scored seven short-handed goals this season — with three coming from Murphy.
This will pose a threat to the Terriers during the matchup, as BU is killing 77.5 percent of its penalties.
"We just have to try to make sure we remain 100 percent disciplined, not 85 disciplined," Durocher said. "I thought in each game we had a penalty that maybe we could have kept ourselves in better control and avoided. We still have to keep working hard killing penalties."