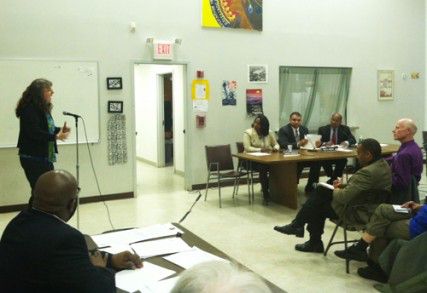 Although proponents of the National Emerging Infectious Diseases Laboratories said the facilities have the proper safeguards, Boston University students and locals called for officials to stop the study of Level-4 pathogens at a hearing Monday night.
About 60 opponents and defendants of the BU biolab attended the hearing in the Cathedral Housing Development in the South End to express their views on the research on viruses.
NEIDL, which began Level-2 tuberculosis research in April, has yet to receive permission to work with Level-4 pathogens.
Lynn Klotz, a senior science fellow at Center for Arms Control and Non-Proliferation, said if the risk analysis passes as it is, there will be an implicit "go-ahead" for the lab.
Klotz noted the potential for researchers to work with SARS. He described SARS as a very dangerous virus, mentioning the SARS outbreak in 2003.
"My goal here is to make sure . . . that Boston University doesn't have permission to work on a SARS virus or 1918 pandemic flu," he said.
Klotz said any work on potential pandemic pathogens should be done in the lab.
BU officials made general statements before answering questions from Boston City Councilor Charles Yancey, of Mattapan.
Anita Barry, the director of communicable disease control for the Boston Public Health Commission, said researchers must address diseases for which there are no treatments or vaccines.
"Although these diseases are not commonly in Boston, we have an international airport and an international harbor," she said. "Anything in any part of the world can be in our city in a matter of hours."
For this reason, she said, there needs to be scientific research such as what's in the biological research labs.
Without tools for diagnosing, treatment and prevention, people in the community could find themselves back in 1918, when millions of people died due to the lack of vaccinations and treatment, Barry said. The types of controls in place are key "wherever that research is done," she said.
The risk for any type of research is always going to be present, and most pathogens are not transmissible from person to person, Barry said. The risk for transmission, if researchers are even working with something that is transmissible, is anywhere.
Ara Tahmassian, the vice president of Research Compliance at BU, said the institution is one of few in the country that put their Institutional Biosafety Commission minutes online. All BSL-3 research is submitted to two different bodies for review, including the Boston Public Health Commission, so there is no research conducted that has not been vetted at least twice.
When Yancey asked Tahmassian about a BU researcher who contracted meningitis in 2009, Tahmassian said the individual recognized the symptoms of the disease and sought medical attention.
These actions were in accordance with BU's operational health program, and the school did notify public health.
The majority of the agents in a Level-4 lab are not easily transmitted from human to human, Tahmassian said.
Gerard Fontana, deputy fire chief of the Boston Fire Department, explained the training and equipment firefighters have in case of a fire at the lab. The Level-4 area includes a special extinguishing system.
"Our people have been trained, and they've gone through the facility multiple times," he said.
Fontana said the chief and all 1,400 BFD personnel have gone through the facility.
"We've added some specialized training for biological sampling and diagnostics and detecting," he said.
After hearing from BU and the Boston Public Health Commission, community members testified against the lab.
Sandy Eaton, a nurse, attended to testify on behalf to the Massachusetts Nurses Association. In the past, the MNA invited people from both sides of the issue to sit down together and speak on a panel.
"The Boston University team refused to be in the same room at the same time as the Roxbury Safety Net, and folks in the community who were concerned about this," he said.
Eaton said the unions that represent workers at Boston Medical center have discussed the issue, vetted it and taken strong positions against it.
BU graduate student Ian Chinich said BU officials have not attended panels hosted to students opposing the biolab, despite their requests. He said he has never seen a panel hosted on campus to explain the purpose of the research.
Mary Crotty, a nurse attorney for the Massachusetts Nurses Association, said the main reason for having a reason for a Level-4 laboratory is to study agents used as biological weapons.
"You don't need a Level-4 bio lab for any other purpose," she said.
Crotty said there is an alternative plan that details other uses to the lab that would be "extremely beneficial."
Yancey said everyone gave strong testimonies, with the exception of representatives from the Boston Public Health Commission and BU, leaving questions about whether or not a Level-4 lab is necessary.
"I believe we heard a very eloquent testimony from everyone who testified – with the exception of the representatives from the Boston Public Health Commission and Boston University – [saying] that we do not and the city of Boston does not need that trouble," Yancey said. "The question of why do we need a Level-4 lab here now has yet to effectively answered."