The Boston University women's soccer team continued its surge for a possible at-large bid into the NCAA Tournament Sunday, beating conference opponent Stony Brook University 3–2 at Nickerson Field.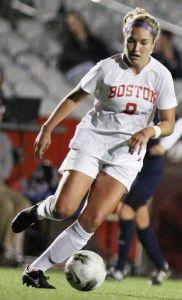 Coming off a tough 1–0 win over UMBC on Thursday, the Terriers (9–5–1, 5–0–0 America East) were looking to rebound from their sup-par performance with their match against the Seawolves (7–5–2, 1–3–0 America East).Stony Brook controlled the tempo of the game early, making BU's backline have to defend early and often.
BU coach Nancy Feldman was quick to point out the Terriers' inconsistent play.
"I thought we were missing a little bit of mental focus. I thought off the ball we were not so good. That's offensively and defensively," Feldman said. "I think we were just taking shortcuts. I just felt like we had an attitude of just doing enough to get by."
Stony Brook's penetration into the BU defense led to early corner kicks for the Seawolves and put the Terriers on their heels early and often.
It was not until the 22nd minute, when BU junior forward Madison Clemens struck a cross into the box, that BU was finally able to make some noise offensively.
The offense started to click around the 25th minute, when Feldman continued to use her strategy of mass substitutions to change up the pace.
"We kind of have a pattern going," Feldman said. "I like the pattern we have with the starting group of forwards, and there's a group of forwards that come in. They give us a bump, and then they stay in for the beginning second half and then we bring back our first group of forwards. It keeps everyone fresh and hungry."
The strategy continued to be effective, changing the pace up and setting a faster game tempo for the Terriers.
After 30 minutes of a stalemate between the Seawolves and Terriers,  Clemens slipped past the Stony Brook back line for a breakaway goal and give the Terriers a 1–0 lead.
"It was kind of like a counter — Jamie found the ball, and then I just went," Clemens said of her goal "Then the ball got through and I just ran as fast as I could. I wasn't really thinking — I just did what I normally do and tried to finish it as best as I could and did."
Having scored seven goals this season, as well as four in the last three games, Clemens's big play has been a huge boost for the Terriers.
Clemens said she credits her success to the team's play.
"I think it's our team," Clemens said. "We're all just getting [position in] the box. That's something our coach stressed. I'm just working my butt off to get in the box and get on the other end of it. I've just luckily been getting there. They're setting me up, which is awesome."
The action did not end there for the Terriers. In the 36th minute, senior back Jessica Morrow delivered a perfectly directed free kick to junior midfielder Emma Clark for the header goal.
With a 2–0 lead, the Terriers sat in the driver's seat and let Stony Brook take advantage of them. Fourteen seconds after BU scored its second goal, the wolves came right back with a goal from ten yards out by senior Taryn Schoenbeck.
Feldman said she made it a point of emphasis to turn up the energy and be mentally tougher.
"We never really got over that, just quite not being sharp enough. I told the kids at halftime, 'The dial was at an eight, and it needs to be a ten,'" Feldman said. "That's not physical. That is mental. That is focus and commitment and just mental toughness. It's not the fight. The fight was fine. But it's doing the little things well."
The second half was similar to the first half. Ball possession was about even between the teams, and neither team could do any serious damage. After a diving save by junior goalkeeper Andrea Green in the 72nd minute, sophomore forward Taylor Krebs landed a beautiful shot from outside the penalty box to give the Terriers a 3–1 lead.
In the 84th minute, Stony Brook freshman defenseman Stella Norman gave the Seawolves a late goal on a corner kick to bring the game within one goal with less than 10 minutes remaining.
The Terriers hung on for the 3–2 win, but Feldman said performances such as this will not help the team's chances of getting an at-large bid in the NCAA Tournament.
"I wasn't satisfied from start to finish with the way we played," Feldman said. "I'd like to see us be better by playing at the level we're capable throughout the 90 minutes."