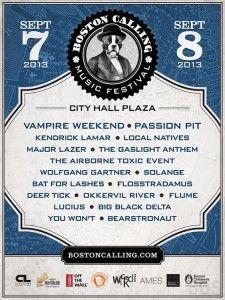 Energetic guitar riffs, ethereal electronic beats and folksy vocals will echo from City Hall Plaza this weekend to welcome students back to the city and celebrate Boston's diverse music tastes.
Vampire Weekend and Passion Pit will headline the second-ever Boston Calling Music Festival in City Hall Plaza on Saturday and Sunday. The two massively popular indie-pop rock bands will join a variety of artists, including experimental dubstep guru Major Lazer, pseudo-punk rockers The Gaslight Anthem, alternative R&B darling Solange and rising rap star Kendrick Lamar.
Unlike May's Boston Calling, which specifically featured indie rock, this weekend's festival splits the concert's days into two broad genres: Saturday's lineup will feature rock, folk, and punk bands, while Sunday's lineup will highlight primarily electronic and hip-hop artists. Boston Calling co-founder
Brian Appel attributes these new changes to his desire to represent a wider variety of music tastes.
"We're trying to attract an audience that lives in the greater Boston area," Appel said. "There wasn't as much hip-hop on the May lineup, and we wanted to be more inclusive. We didn't want to be one genre."
In addition to incorporating more genres, this year's Boston Calling lineup also includes more Boston-based bands, such as the energetic Viva Viva, folksy You Won't, pop-electronic Bearstronaut, and even the Sunday headliner, Passion Pit. Following criticism from fans and critics for excluding Boston-based musicians, Appel said this year's collection is an attempt to balance 'hot,' big-name acts with local flair. While he described Boston's overall music scene as vibrant and rich, Appel said he intentionally restricted the number of Boston bands to participate.
"I think if we had a concert that was just for Boston bands, the turnout might not be that of a festival that includes bands from around the world," Appel said. This 'around the world' docket now includes British singer-songwriter Bat for Lashes and Sydney producer Flume.
Overall, the second Boston Calling lineup represents both critic favorites and rising stars, with many acts boasting eight out of 10 critical ratings for albums and shows. Kevin Hart called Kendrick Lamar "the most talked about person in hip-hop right now" at the Aug. 25 MTV Video Music Awards.
And he may be right, considering Rolling Stone deemed his Good Kid, M.A.A.D. City a "need to hear" album. The independent music authority Pitchfork gave both GKMC and Vampire Weekend's Modern Vampires of the City a rating in the nines.
Regardless of the star-studded lineup, some Boston University students appeared less than excited about the concert — or were not aware of the concert altogether.
Meredith Lawrence, a College of Communication junior, said she would be most excited to see The Gaslight Anthem, though she does not plan to attend the concert.
"It was a bit pricey for the amount of bands I would be seeing," she said.
Alexander Golob, a College of Fine Arts sophomore, said he doubts students are aware of the upcoming festival.
"They started most of their advertising in the late spring and over the summer, which has made getting the word out difficult," Golob said.
Appel said Boston Calling is student-friendly, considering its lineup, its accessibility — City Hall Plaza is near several stops on the T. Tickets allow students to leave and reenter the concert at any point over the weekend. Plus, tickets are reasonably priced. While most music festivals fall within the $200 to $400 range, Boston Calling offers a weekend pass for a mere $130, and an option of $75 for one-day access. Boston Calling also offers BU students a discounted weekend pass for $99.
"We tried to make an event that was very conducive to college students," Appel said.
Raleigh Linville, a College of Engineering sophomore, said Boston Calling will be the second music festival he attends.
"I am dying to see Vampire Weekend and Passion Pit, and they are the headliners," he said. "I also like most of the other bands as well."
Tickets for Boston Calling were still available as of Wednesday night.