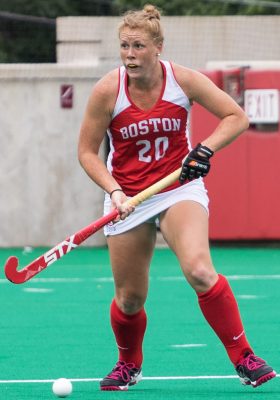 Just west of the iconic Agganis Arena, a different Boston University hockey team flies under the radar. Year after year, the perennial powerhouse that is the BU field hockey squad performs at a nationally recognized level.
Despite losing eight seniors, including four 2016 All-Patriot League First Team Honorees, head coach Sally Starr said she has high expectations for her team. Starr will be returning for her 37th season as head coach. Despite earning the prestigious Patriot League Coach of the Year award for the eighth time in her illustrious career, the amicable coach expects a vast improvement from not only her players, but herself.
"I am coaching very differently now than even five years ago, and that's what I love about coaching," Starr said, regarding the development of the game and her preparation. "The game has evolved so much since I began my career coaching and it continues to evolve. For me, that is a challenge. What I love about this game is that I have to stay current and really make sure that I am being the best I can be to help our team be the best they can be."
Duxbury native Ally Hammel will anchor the defensive pressure. The tenacious junior amassed three Patriot League Defensive Player of the Week awards during her sophomore campaign; however, her all-around game will be pivotal as Hammel is the Terriers third leading returning goal scorer.
Junior forward Kara Enoch returns as the leading offensive threat for the Terriers. The Yorktown, Virginia native collected five goals and 12 points in total last season.
Enoch's former high school teammate Miya Denison leads a promising group of freshmen. The incoming forward was named the 2016 Virginia State Player of the Year during her senior campaign. Freshman back Kathryn Scheerer also boasts an impressive pedigree as a member of the U19 and U17 USA National Indoor Field Hockey Teams.
With the incoming freshman class also arrives some international talent including Australians Millie Baker and Shannon Ma as well as New Zealanders Petra Hall and Ailsa Connolly. Hall and Connolly join rising junior midfielder/back Maika Akroyd who hails from New Zealand as well.
But the Terriers' most vulnerable aspect is off the field, Starr said. The roster changeover supplies a similar talent, but camaraderie is where the Terriers need to work on early to win games, she added.
"With 40 to 45 percent of the team being new people, it is really important that we develop that team chemistry right away," Starr said, who guided the Terriers to a 13-6 (5-1 Patriot League) record last season. "We're returning a lot of talent and bringing in a lot of talent on the hockey field and as much we concentrate on x's and o's during the preseason we are also going to be working really hard on creating a family environment so these kids get to know each other really well."
The team's first action comes in the form of two scrimmages — the first at the University of Maine and then home against Boston College. The Terriers kick off their regular season against Bryant University on Aug. 25, when the Terriers host the Terrier Classic.
Tough regular season matchups against the nation's top 20 talent from last season — including Duke, Albany, Harvard, Boston College, Princeton, American and Connecticut — should highlight a challenging, yet deserved, 2017 season for the BU field hockey team.
"We work hard to have a really good schedule," Starr said. "Our conference is a good conference but it is important to get a good out of conference schedule. That really helps us prepare for the NCAA tournament, to prepare to be the best that we can be for our conference tournament."
Even though the Terriers hosted the 2016 Patriot League Tournament at New Balance Field, they were edged in the title game by American University (14-7 Patriot League 5-1) by a score of 1-0.
As always, Starr has high expectations for Terrier field hockey this fall.
"Our ultimate goal is to make the NCAA tournament and to compete successfully in it and be the best that we can be," she said.