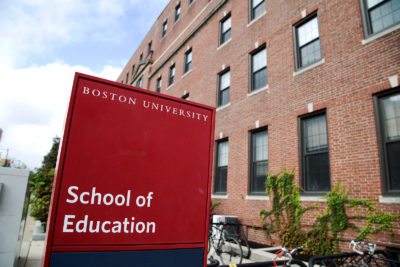 It's official — Boston University and Wheelock College are slated to officially merge on June 1, 2018 — but due to the extensive disparities between the two schools, many BU and Wheelock students are dubious the merger will benefit everyone.
The cornerstone of the merger is the union of BU's School of Education and Wheelock's School of Education, Child Life and Family Studies to establish the Wheelock College of Education and Human Development (WCEHD), according to a letter BU President Robert Brown sent to the BU community Wednesday.
An assortment of Wheelock programs will "be joined with appropriate programs at BU," BU spokesperson Colin Riley said, since the two education schools are "the most complimentary."
"It's an exciting time," he said. "I'm sure some people have concerns or questions, and I'm sure they'll be answered in due time as the process continues and moves forward to fully incorporate Wheelock as part of Boston University."
The merged programs will be centrally-budgeted under BU's overall budget, Riley said. Additionally, the Wheelock campus will likely house the conjoined education department next year.
Students at Wheelock and in SED expressed their hopes and concerns regarding the merger, with many noting the obvious and potentially problematic differences between the two — soon to be one — schools.
Among the optimists is Jaime Street, a junior in SED, who said she doesn't think Wheelock's recent financial challenges reflect the quality of its education programs and that the merger could make her BU degree more prestigious.
"[Wheelock has] really great teachers and professors and great relationships with other schools in the Boston area that we kind of don't have relationships with," Street said. "[The merger] will help make my degree worth a little more because it will have the Wheelock name on it, and I think in the long run, it will be really beneficial."
The deep-seated history of Wheelock's education and social work programs make the school sought-after professionally for its resources in those departments, Alex Peck, a first-year graduate student in the Wheelock School of Social Work, Leadership, and Youth Advocacy, said.
Peck said he hopes during the merger, BU's administration will "honor the integrity" of Wheelock's social work program, specifically the school's social justice approach, which Peck said contrasts with BU's more medical model.
"From what we've been hearing, they've been really pushing to say both schools are pretty excited about keeping their cultures," Peck said. "At least for a little bit until they can continue to grow into each other."
Wheelock also offers a "diversity of mind" that BU lacks, said Travis Henderson, a first-year graduate student in Wheelock's social work program.
"[It's] the diversity of experience – the diversity of 'whys,'" Henderson said. "At Wheelock, if you were going to go around and ask a hundred people 'why did you choose Wheelock?' I think your answers would be very different than if you did that at a place like BU."
Another first-year graduate student in Wheelock's social work program, Clara Hobson, said she chose Wheelock for its small-school environment and hopes she can continue to go to class on the Wheelock campus.
"I honestly don't want to go to class on BU's campus," Hobson said. "The reasons why I wanted to be at a small school – I hope those remain. I hope that access to larger resources, which can always be helpful, can come in conjunction with that."
Knowing several BU students personally, Hobson said she is aware that some are disdainful toward Wheelock for the disparity in acceptance rates between the two schools.
"I'm excited for it, but it's also hard to merge when I feel like a part of the population is like 'we don't need you,'" Hobson said. "You also have to think about the fact that [Wheelock] prioritizes the capacity to learn – that intelligence does not come from a test score, does not come from a GPA – because we also like to incorporate the different paths people have taken to legitimately have a diverse student body."
Given these dissimilar rates, Yuge Li, a SED senior, said she thinks BU admissions standards should apply to all transitioning students — unlike how Wheelock students will join BU's student body.
"It's a great idea to share resources, but if we do not use the same admission requirements or we don't pay the same tuition, what's the point of getting into the School of Education?" Li said. "I'm putting in so much effort to get into the School of Education, but maybe some other students don't have to spend as much time as me to get into the same school, so maybe that's not that fair."
Megan Markovitz, a SED junior, said she is concerned the merger could result in a less intimate environment within her school.
"I've had the privilege to know most of my professors on a very personal level and have had almost all my classes with the same 15 people since first semester freshman year," Markovitz said. "I, and a lot of my peers, are worried that the acquisition of Wheelock, and the creation of a larger college of education, will impact our small community."
Still, given that she is studying elementary education, Markovitz said she believes BU can still benefit from Wheelock's resources in child and family studies.
"SED doesn't exactly have wealthy alumni," Markovitz said, "and we don't get a ton of donations, so I'm excited to use the resources Wheelock has to offer, even if they are a bit of a walk from SED."