By Karen Berman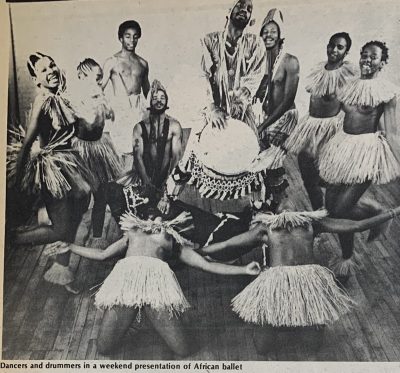 Bodies, voices and drums blended and exploded with frenzied energy as the Boka N'deye Pan African Drum and Dance Company brought "Festival Africaine!" to Hayden Hall Saturday night.
Performing the traditional dances of Africa as found in the US, the Caribbean and the African continent, the company created an irresistible rhythm of drums and dancers. The audience pulsed to the driving beat of each dance, bursting into nearly frenetic applause as each came to an abrupt halt. 
The theme of the program, sponsored by UMOJA, centered on everyday life in various African villages, put to movement by the constant force of the drums. Drums opened the program with "Drum Call" and remained the source of energy throughout, the dances seeming to be just an extension of their rhythm.
Dancers performed with incredible energy, in dances where there were no nuances or subtleties, where all meaning was blatant and vivid. But even in such total abandon, there was a definite technique and discipline visible, adding impact to the movements.
Sexuality was the message most powerfully conveyed by many of the dances, particularly the fertility dance, harvest dance and a dance honoring the strong men of the village. The human body was celebrated over and over again, and the tremendous pull of the drum rhythms brought the audience into the midst of the celebration.
Intermission offered some eloquent critiques of the program, as an elderly woman with a British accent lamented to a friend, "Don't you sort of long to be an African," while a nine-year old boy darted across the stage mimicking the bold exaggerated movements of the African villagers.
Chants and folk-songs complemented most dances, but were the weak points in others. Particularly flat against the background of the vibrant program was "Congomah," a performance with the finger piano, in which two members of the company played instruments and chanted a song. The movement and rhythm of the other pieces were decidedly missing and the song that replaced them was monotonous and off-key.
Other songs, such as the "Shekere" (gourd-shaker) were
performed well and with enough movement and color to keep up the momentum of the program.
In contrast to the great heat and vibration of the dancers, the mural used as background was stark and almost distracting, and the costumes often seemed a bit too theatrical to reflect the total unpretentiousness of the drumming and dancing. The women's costumes, which resembled summer skirts and halters in "Ashieagbekor" (a war dance) seemed especially out of place.
Despite these few distractions, every part of the program added to the energy-charged atmosphere, and the dancers never failed in their expression of the deep, bare humanity of African dance.
Boka N'deye is a two-year old company with dancers and
drummers from all parts of African and the Caribbean as well as the US. Based in Mattapan, Mass., their goal has been to "create and share an artistic expression which would reflect … their African culture and heritage."