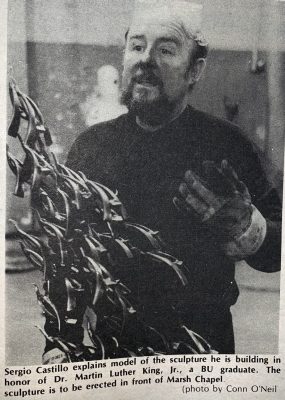 By Amy E. Greenberg
From the depths of Boston University, the sounds of steel being shaped and welded can be discerned. The man behind the face shield and blow torch is Sergio Castillo, a visiting professor at the School of Fine Arts who has been commissioned by BU to build a sculpture in honor of Dr. Martin Luther King, a BU graduate.
The original statue was a gift of the American embassy to the Chilean government. It was destroyed in the September 1973 overthrow of Salvador Allende.
The statue, to be erected in front of Marsh Chapel, will be dedicated in a ceremony on May 16, with Mrs. Coretta King, Dr. King's widow, expected to attend.
The sculpture will consist of 50 doves flying upward from a central point, and is modeled after the swarm of doves released at the beginning o the Olympic games.
Castillo said he chose the doves as the subject for his work because they convey a "peace message," which he said is the idea behind King's teachings. By building this statue, Castillo wants to present his own similar message to the world. The number 50 was chosen to represent the 50 states of America.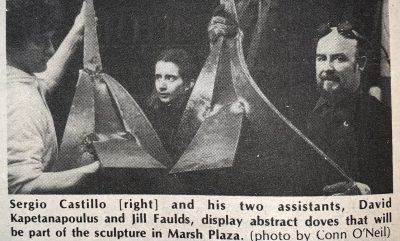 The doves will be completed in about a month. Their actual construction will take place at the site of the sculpture because of their size. Castillo and his assistants will be welding three or four doves a day onto the base over a 13 -day period.
The concrete and granite base is currently being set at Marsh Plaza and will take a month to dry. When fully completed, the entire structure will weigh about 7 tons, and be 18 feet high.
A special kind of steel, Corten, is being used in this work. This steel will rust only to a certain degree, and then that rust will protect the rest of the steel. Castillo said this steel is "a little harder to work with," but he doesn't expect much trouble.
Castillo is being assisted by two SFA students, David Kapetanopoulos and Jill Faulds. Kapetanopoulus, a student in Castillo's sculpture class, works eight or nine hours a day on the sculpture. Although he finds it hard work, Kapetanopolous said it is an "incredible experience" working with Castillo, and that Castillo has "an incredible amount of knowledge."
Castillo is now living in Boston for one semester, during which time Castillo is teaching one sculpture class a day at SFA and working the rest of the time on his sculpture. He and his wife are natives of Chile, but have lived in Spain with their children for the last few years. 
The work is being done in the large basement of the BU Physical Science Building at 38 Cummington Street.