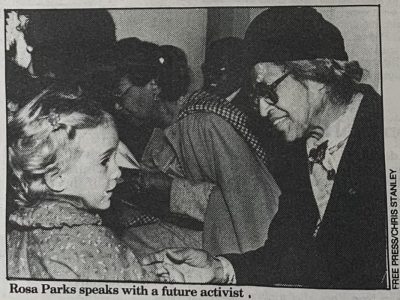 By Kathy Moore
Rosa Parks, whose refusal to give up her bus seat triggered the bus boycott in Montgomery, Alabama in 1955, said yesterday she will continue to fight for equality before a crowd at Morse Auditorium, including Mayoral Candidate Melvin King.
Shortly before her speech, William E. Alberts, minister for The Community Church of Boston, the organization which sponsored the gathering, recognized King as "the next mayor of Boston" as King rose to applause and chants of "Mel King for mayor."
King said Rosa Parks is absolutely the most significant human being and she is responsible for the greatest change in this country." "She. did what hundreds of thousands of people had the opportunity to do but didn't," he said.
Parks decision not to get up and give seat to a white man resulted in a year long boycott where the blacks of Montgomery walked, refusing to submit themselves to the bus company's discrimatory treatment. The movement culminated in the Supreme Court's ruling which outlawed the segregation of all public facilities in the South.
During her five minute address, Parks said, "I wasn't just a hot house plant sitting on the bus not knowing what to expect. I remember my mother saying freedom over me and I'll be dead in my grave before I'll be a slave."
Parks, 70, who now lives in Detroit and is an assistant for Congressman John Conyers Jr., was in Boston for the dedication of the Graham and Parks Alternate Public School in Cambridge. The dedication honored Parks and also state representative Sondra Graham.
"I've struggled and I've grown old, tired, weary, and sometimes I've despaired, but in Cambridge this weekend, witnessing the naming and dedication of the Graham and Parks public school, I had hope", Park said. If we move and band together we do have a chance even with the oppression and depravation I've lived through for half of my life."
Plans to build a tribute to Parks in Detroit which will hold her personal papers and be a research center for the study of the civil rights movement are underway Alberts said.
Parks said, "I ask for your prayers to go back to Detroit where I'll work to make life better for all of us no matter of color, persuasion, or sex."