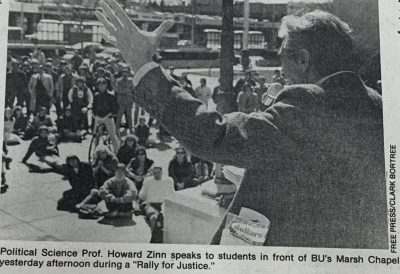 By Susan Campbell
Approximately 200 students attended the "Rally for Justice at Boston University" in front of Marsh Chapel yesterday to protest issues ranging from President Reagan's budget cuts to divestiture in South Africa.
The rally, organized by the Community Council, opened with the Ground Zero Club's presentation of the effects of a nuclear holocaust and was followed by 14 speakers, including College of Liberal Arts Professors Cheryl Gilkes, discussing budget cuts, and Howard Zinn, speaking on the history of oppression at BU.
Howard Zinn said the administration is stifling student expression and is "a place of enormous hypocrisy" although it claims to be a place of freedom of speech and assembly.
"Our problem is we're at a university where the basic idea of a university has been thwarted, the basic idea being that of free expression," he said. "This administration has done everything to crush the spirit of Martin Luther King at BU."
Zinn said the Massachusetts Civil Liberties Union receives far more complaints against BU than against any other institution, and investigating the complaints the CLU has run into resistance from some University officials.
"Those who did supply information would get 'reappraised' by the administration," he said: "The people who work here are afraid of BU."
"What has happened to the faculty here that disappear? It's like Argentina. Untenured faculty members are afraid to speak against the Silber Administration, afraid they might lose gaining tenure," Zinn said.
Sociology Professor Gilkes charged that the BU administration, in its refusal to divest in South Africa, is of the same mindset of those who support student aid cuts, apartheid in South Africa and refuse aid to farmers.
Gilkes said the University has adopted a "blame the victim mindset," which believes the poor and afflicted deserve their misfortune.
Michael Blackwell, a student in the School of Theology, speaking against "institutionalized racism," said "BU as an institution places its rubber stamp upon racism and it must be arrested. BU has an equal opportunity policy, an affirmative action program that looks and sounds marvelous— on paper."
Marc Lurie, a CLA student speaking on South Africa, said President John R. Silber's arguments against divestiture are "nothing but a pack of lies.
"He says blacks in South Africa are against US divestiture. That's not true. Blacks are afraid to speak openly against divestment— if they do they are thrown in jail," he said.
Lurie said Silber's other argument that US divestment will hurt the employment of blacks in South Africa is weak because US corporations employ only 1 percent of the blacks in a country with an 25 percent unemployment rate.